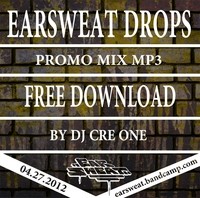 If variety is indeed the spice of life, then my love of the compilation album is evidence I am living rather well. I have always had an affinity for a myriad of artists that can be found conveniently in one place and the myriad of styles from track to track provides the notion that I am getting more bang for my buck.
All of the aforementioned facets are in place on Drops, the new, 16-track album from the collective that is Earsweat Records. Set to drop on May 8, the Arizona record company has put forth their biggest and brightest on an album of Hip Hop that truly appeals to all. From track to track, what becomes apparent is that this isn't everyday, cut from the mold Hip Hop. This album is rife with originality that strays from any "set rules" of how to make a good rap track. Think the outside of the box thinking and approaches taken by the likes of Tribe, Jurassic and the like.
DJ Cre One "Earsweat Drops Promo Mix" MP3:
G Owens opens the album with "Aviator"–equal parts, Hip Hop and R&B over a clubby back beat. The trippy ethos of the track is bolstered by intermittent singing and rapping and reflects the many genres Owens is influenced by… think a mash-up of Maxwell meets Tribe Called Quest. Piano tinkling opens up "Sacrifice" by Social Studies. Live instrumentation adds an element of authenticity to the track as it moves through the verses of tandem rap lines. Idolize the MC lends the groovy "Earth to Smootha" with more backing piano. Clever lyrical matter and a smooth delivery cap this head bobber of a rap track. "Stress?" by Lakai reflects a vast imagination that mirrors his equally imaginative biography (Unicorn ponies?). Smart lyrics tinged with humor reflect the real life, hard times message that runs through the track. Galactic Basic (with a guest appearance from Optimal) lends "Empty Days"; rife with backing synth and a slight, simple backing beat allows the lyrical matter to shine at the foreground. Rap verses are spit at accelerated speeds and complement the down tempo track pace. Eerie synth opens Jay Speaks' "Champion." The track sounds raw and earthy with a gritty element in the background beat and chirps and chimes. Beat box makes an appearance at the track midpoint and while it bolsters the beat, it seems somewhat out of place or possibly an afterthought. Finally, what sounds like a full collaboration rounds out the album with "The Bass." This track pulls out all the stops with samples, synth, a heavy back beat (live instrumentation in there maybe?)Again, it's a head bobber track that illustrates the available talent at the Earsweat camp disposal. Arrangement certainly had the forethought to save the best for last.
Who knew there was so much a solid base of simply good Hip Hop in Arizona's desert? I for one certainly didn't but this album has been added to a steady rotation in my iPod. Solid talent, good arrangement and professional engineering make this another great compilation of witty and honest Hip Hop and if you can't find tracks that speak to you here; I would argue if you were really a Hip Hop fan at all. Look for Drops on May 8th at earsweat.bandcamp.com or for more information on individual artists go to their website www.earsweat.com.
By: Christopher West @ cwestlaz@gmail.com
[Rating: 4/5]