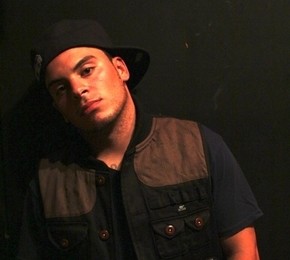 Born Christopher Gonzalez, 21 year old Kepstar, isn't just another hip-hop artist from New York.   His poetic and lyrical melodies have deep and real feelings based on what is going on in the world today.   He has a refreshing, crisp sound and tells it like it really is.  
Tell us alittle about yourself, your childhood and places you lived.
What's up? I go by the name of KEPSTAR. After moving around through out many different parts of the city and even parts of Florida I finally settled down in Maspeth, New York. Growing up I wasn't the most well behaved kid and that usually resulted to me being in trouble often. I dropped out of a private high school two weeks into my freshman year and I've been working construction ever since along with pursuing my music career.
[youtube 3ww3sJn8vq4 nolink]
What got you interested in music?
I got into music early, around 6 years old. I guess just always listening to music is what got me into it. I listened to a lot of different types of music which I think helped me . Around age 12 is when I started writing my own lyrics. I recorded a few songs and past out a few CDs but it was nothing serious. I eventually gave up on it for a good 3 years, rarely writing and barely recording. I got back into it and been rockin' ever since I released my first Mixtape "The March" in May 2009.
Who were your early inspirations?
Eminem really inspired me to start writing my own lyrics until I eventually started recording. Also Nas was a huge inspiration with how he painted a picture through his music. Jay-z was just god father flow. I also listened to a lot of alternative rock, punk and a lot of R&B music as well, which all molded me into the artist I am today.
Shades Of Gray: Hosted By Clinton Sparks
http://www.datpiff.com/Kepstar-Shades-Of-Gray-mixtape.266002.html
What do you want listeners to get from your music?
Well,   I mean, I make each record with different intentions but overall I want people to be able to relate to what I'm saying and maybe something I say can help them in a positive way. Music is life and so I put a lot of my life into my music.
Tell us about your cds or projects your working on.
My latest Mixtape is titled "Shades of Gray". I called it that because during the process of making it there was a lot of uncertainty in my personal life and even in my music career. I got Clinton Sparks to host it and has some pretty good features including Joe Budden, Termanology, Otis Clapp, Devo D. and Tj fox. I am currently working on another project with my production team Grand Staff and we have about 11 records done, we're just hammering out details and figuring out how we want to deliver it.
Where would your dream concert be?
Easy, Madison Square Garden. I'm a born an raised New Yorker!
What do you want to be doing 5 years from now?
In 5 years I would love to be making music, making money and touring the world. You know being famous and stuff! I am the wishful drinker. Red Cup Sippin'
Facebook – http://www.facebook.com/KepstarMusic
Twitter – https://twitter.com/KEPSTAR (@KEPSTAR)
Reverbnation – http://www.reverbnation.com/kepstar
Youtube – http://www.youtube.com/KepstarVideo
By: Diana Olson – diolson05@yahoo.com