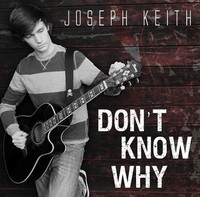 Joseph Keith is a 17-year rock/acoustic old singer/songwriter from Fairfax, Virginia. After picking up the guitar at the young age of 10, he practised like mad and formed his first pop-punk inspired group at the age of 13. As his writing matured, he formed a new band, Nine Days Gone, in 2009. Nine Days Gone have played extensive live dates and released a debut album with another on the way in 2012. However, rock bands don't always allow for much in the way of acoustic material, so it's a good thing that Joseph has set out on his own path to record his own solo material. He's been busy, releasing "A Lighter Side" in 2011, and his new album "Don't Know Why", which I'll be listening to today.
[youtube yfpHnhmLROs nolink]
"She's a Mess" starts off sounding like a folk song until Joseph's emo-inspired vocal enters the mix. Slowly, other elements creep into the mix — bass, drums and distorted guitars. This is a well-written song and once you get used to Joseph's delivery, it's enjoyable. I'd liken this to something between Good Charlotte and the Goo Goo Dolls — whether you enjoy emo or mainstream pop/rock will be the deciding factor here.
"Crazy for You" is a love song based around a solo acoustic guitar and violin piece. The chorus vocals bring some awkwardness to the song as Joseph stretches his range, although, once again, fans of emo may enjoy. To his credit, his pitch is perfect and his voice is strong overall. "Everything" carries the same vibration and is similar musically. Lyrically, this is definitely boy band/Idol type fare through and through. It's an album that your teen daughter could show you, and while you may not understand why she loves it, you're certainly happy she's not listening to anything dangerous or liable to put ideas in her head.
"Don't Know Why" finds Joseph Keith excelling within his range, crooning a smooth vibrato and sounding similar to Daniel Johns of Silverchair. Definitely one of the better tracks on the release. "I'll Be Fine" has a more up-beat guitar arrangement, and a catchy chorus underscoring the writer's ability to make it through. "On the Road" is similar to "Don't Know Why" in its smart songwriting and laid-back feel. Unfortunately, in an endeavor such as this, it's easy for the songs to blend in with one another, and it's also easy to overstep in the amount of songs included. That's the case here, as the songs tend to sound the same throughout.
I can't pick any tracks from the remainder of the album that provide a change in dynamic. I won't labour that point though. Here's the bottom line. This is quite a talented 17-year old with a strong voice and a songwriting ability that, while it still needs to be honed and shaped, has potential.
James Moore @ james@independentmusicpromotions.com
[Rating: 3/5]