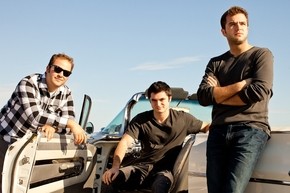 The Como Brothers are a rock band from Long Island, NY.  Their rock songs are refreshingly modern, yet there is also an older influence in a variety of their songs. Their youth is deceiving when you listen to the depth of their lyrics and the richness in their vocals.   Currently performing in the New York area, this band is quickly reaching out to entertain a wide audience on the internet and more.   They were recent finalists in the Hard Rock Rising competition sponsored by the Hard Rock Cafe.  They received the most votes out of 6,000 bands across the US and got to play a set of their music at the Hard Rock Cafe in Times Square. Give a listen to their new EP "The Speed of Sound" on iTunes and like them on facebook to hear other selections.    

Tell us a little about The Como Brothers Band?
We are a three piece band from Long Island, NY. Our names are Matt Como (Bass/Vocals), Andrew Como (Lead Guitar/Vocals), and Dorian Costanzo (Drums). Andrew and Dorian are 20 years old and Matt is 22. A great songwriting partnership exists between Matt and Andrew.     We take pride in our songwriting and try to improve it every day.
How did the band get started?
We started playing together in high school back in 2007. Andrew met Dorian in class and played a few shows with him before Matt joined the band.
iTunes Link:
http://itunes.apple.com/us/album/the-speed-of-sound-ep/id509052601
Who were your early inspirations?
It may seem like a cliche at this point but story of The Beatles definitely inspired us–especially the songwriting partnership of Lennon and McCartney. We also love bands like Sublime, Foo Fighers, Maroon 5 and singers like Amy Whinehouse and Ray Charles.
How do you classify your music?
We are a rock band that loves songwriting and making catchy music.
What CDs or EPs do you have out there?
Our first professionally recorded EP called "The Speed of Sound" is available on iTunes NOW!!
Any new projects or plans for CD's or touring?
We are recording a single and a brand new EP in the summer of 2012!
Also, recently we were named as a top emerging artist by Sound and Image Showcase (S&IS) affiliated with Sony Music. They give artists a great opportunity to be heard by top A&R's in the music business.
What do you want listeners to get from your music?
We hope people will enjoy our songwriting and relate to what we have to say. We write about things that go on in our daily lives so I think people will be able to feel the real-life messages in our music.
What would you like to be doing 5 years from now?
Playing a show at Madison Square Garden. Thanks for the interview and we hope everyone comes to see us at a show soon!
http://www.Facebook.com/ComoBrothersBand
http://www.reverbnation.com/comobrothersband
Diana Olson – diolson05@yahoo.com