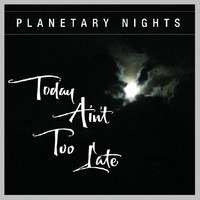 Over the years we've seen rock, pop and even rhythm and blues slowly erode into over-commercialized, corporate puppet shows providing music that is extremely sing songy, predictable and highly corporate. I hereby call this new breed of music "Poser Rock" and I want to personally thank all the corporate giants for successfully transforming "Sex Drugs & Rock n Roll" into "Yoga, Vitamins and Nikelback" for everybody. Of course millions of musical lemmings don't know the difference anyway, but not everyone is entertained. Talking to many music fans out there the response is overwhelming. Give me something new, something that pushes the envelope with a fresh sound that doesn't sound like Nikelback, Daughtry or Lifehouse.
So across my desk slides the new CD by New York Based R.J.McSweeney and his band Planetary Nights entitled "Today Aint Too late." What I heard put a smile on my face.   It's a nice high octane rock record that delivers solid songwriting, amazing playing and a let it all hang out swagger. McSweeney reminds me of a modern day Little Feat, The Allman Brothers, Eric Clapton and maybe a tad of Tom Petty and the Heartbreakers and Bruce Springsteen. You will also hear a side of Classic Jam Band and Americana and good ole' fashioned Rock and Roll. The playing is off the hook and the songwriting is witty and entertaining. If you like the above bands you should definitely check out this CD. My favorite track is probably "Coming on Home" and the title track. CD is available on CD BABY and can be downloaded on I — Tunes.
This release is not the most marketable CD I've ever heard. It's safe to say it was released 20 years too late, and the sound is late to the party. However seeing how people from his region give a hall pass to guys like Bruce Springsteen he's got nothing to worry about.
"Today Aint Too Late" by R.J Mc Sweeney and Planetary Nights is clearly a solid release with many feel good rock grooves with a take no prisoners Classic rock guitar driven sound that is just a pleasure to listen to. This CD is comparable to a bottle of Whiskey — every now and then it's an absolute pleasure to indulge in.   It's a record that gives us a fresh glimpse at an amazing artist and takes us back a few years — before everything started sounding like — well Nikelback.
Kevin Huber
Edited by Cyrus Rhodes
[Rating: 3/5]