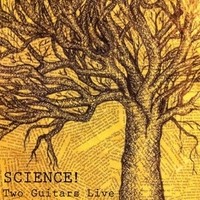 You very rarely get what you ask for, and most of us know this all too well. Just like Michael Douglas in "Falling Down", we're simply unimpressed and more than a little bit annoyed that the burger looks absolutely nothing like the poster.
Science!, an inspired acoustic duo from Seattle, must have had this in mind when planning their new CD release called "Two Guitars Live". No frills and no gimmicks. Just two guitars, two mics, and a stripped-down set. This is the kind of thing that more well-known acts usually release, but in my opinion, it's a bold move and an excellent choice for an indie act. Bold because the mistakes will be there for all to see. An excellent choice because it's rare. There's no overdubbing here.
"Austin Tune" starts off on the right note, as Jim Elenteny shows himself as more than adept on the guitar, and vocalist Justin Stang accompanies him on guitar, and most importantly contributes his raspy singers accent that sounds inspired by artists such as Janis Joplin and Shannon Hoon. There's a looseness here that proves both artists are unconcerned with getting things perfect. They are willing to sacrifice perfection for flow, and this is a lesson more artists would do well to learn. Transmit some soul and you'll be fine.
"You and Rachel" is more sombre in nature, showcasing more virtuosity from Elenteny while Stang moans a tortured story. Quite a strong communication here. "Chains" brings a more upbeat melody and the performances are impressive all around. The guitar soloing at times can get a bit longwinded and it would have served the song to have a few atmospheric parts or riffs rather than vocals/solo/vocals/solo throughout, but you have to give credit for how difficult a performance like this would be in the first place.
"Time" has a classic sound; picture Led Zeppelin's acoustic work with an Americana flavor. "Time, you ain't never been a friend of mine. Age and wisdom ain't what I need on my side", Justin Stang sings on the pepped up chorus. "Abilene" is bittersweet and reflective, while "Days Spent" has a self-affirming theme of reclaiming the past for your own purposes.   "Things Is Going My Way" brings the blues and the funk, as well as demonstrating the song-writing ability and versatility here.   "Seattle Song" closes the album on an expected high note; an energized homage to the duo's home.
Science! respect the music they play, and you can tell. They successfully borrow from 60's rock, 90's grunge, blues and folk, and it sounds classic. The closest similarity I can think of is an at times uncanny resemblance to Blind Melon, both in their sound and in their mature, loose song-writing approach. Rock is alive and well with new artists like Science! around to throw some wood into the fire.
James Moore  – james@independentmusicpromotions.com
[Rating: 4/5]