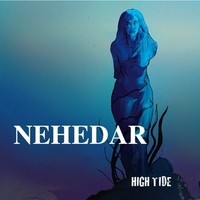 Nehedar is the musical creation of Emilia Cataldo. Her latest CD, "High Tide" is her fifth self released project. Her voice is as mystical as her name. Nehedar means "wonderful" in Hebrew, and she was named well in my opinion, because this music is simply wonderful.
She has a sweet petite voice that sings with authority. She attacks poignant subjects with grace that soothes your soul. The instrumentation has a world music vibe that gets the heart pumping. As the blood courses through your veins the music takes on an orchestral persona. She can be abrasive and submissive all at the same time with incredible integrity that shines like the morning sun.
Through her words you learn a little more about her with each song. She unveils her emotions swiftly with a meticulous style; sharing only what she wants to share at the moment she is feeling it. This arouses your inner curiosity that waits anxiously for the next track.
You can tell she has put her entire heart and soul into every note. Her music comes from a place of dreams, hopes and fears that are all worth fighting for. This CD is a movement, something that may be bigger than your every day average release; and it dances in your mind long after the player has been turned off.
Rebecca Hosking – hoskingrebecca@gmail.com
[Rating: 4/5]