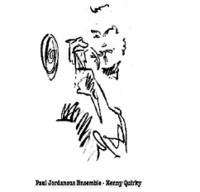 Over the years we've seen music slowly erode into over-commercialized, corporate puppet shows providing music that is extremely sing songy, predictable, popish & highly corporate. I hereby call this new breed of music "Poser Rock" and I want to personally thank all the corporate giants for successfully transforming "Sex Drugs and Rock n Roll" into "Yoga, Vitamins and Nikelback" Of course millions of musical lemmings don't know the difference anyway, but not everyone is entertained. Talking to many music fans out there the response is overwhelming. Give me something new, something raw, something that's delivers world class musicianship that pushes the envelope with a fresh sound that doesn't Sound like musical Ramon Noodles.  
So across my desk slides the new CD by UK based Paul Jordanous Ensemble entitled "Kenny Quirky" and what I heard put a smile on my face.   It's an amazing Modern-Day Jazz release that   delivers solid songwriting coupled with Gold Standard Musicianship that just flows across your ears. The music will remind you of the usual suspects — Miles Davis, Lee Morgan, King Oliver and Kenny Dorham. If you like the above bands and musical styles you should definitely check out this CD. My favorite track is probably a toss up between "Strong: The Reaction" and "The Squeeze Driver" Many amazing Jazz composers know how to integrate the best of both worlds — using classic jazz to tell a story. Indeed Paul Jordanous is a master at this.
CD available on SOUNDCLOUD http://soundcloud.com/paul-jordanous-ensemble
"Kenny Quirky"   by Paul Jordanous Ensemble is clearly a solid release with many feel grooves with a pleasant atmospheric quality to it. It's a record that gives us a fresh glimpse at an amazing band nd takes us back a few years — before everything started sounding like — Musical Ramon Noodles.  
Kevin Huber
Edited by Cyrus Rhodes
[Rating: 5/5]