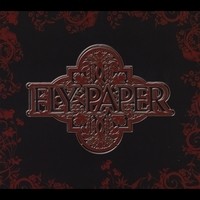 Kalamazoo-based alternative/blues rock trio Fly Paper are currently promoting their self-titled full length release. Inspired by the classic 90's and 60's rock movements as well as folk, blues, funk and some stellar female artists such as Fiona Apple and KT Tunstall, this could either be a strong release or completely mediocre. It's always refreshing to see bands who push for some real soul and aren't afraid to pay tribute to their influences; to continue the exploration of the rock genre. However, the right balance has to be struck in order for it to be effective. It's the soul that makes it or breaks it — it's very important to understand that.
The opening track "Fly Paper" starts with a slightly funky guitar riff and a groove you'd expect given the band's description, but what you may not expect are the smooth, effortless delivery of vocalist Micaela Kingslight, who seems to know where to go, and singlehandedly narrates the quest. I already want to visit Kalamazoo, as Micaela displays some Ani DiFranco-type confidence and almost scat delivery as she rhymes and croons over this infectious track. There is a kind of 60's inspired spirituality to "Fly Paper" as well — the chorus hits the mark in a big way.
"Is It Just Me" underwhelms slightly with the slightly boring and average verse; it's both the chord choices and their delivery that don't offer much here. However, the chorus offers some Fiona Apple-esque soul, and the mood is both determined and beautiful as Kingslight sings "I won't walk away". The song closes with a John Frusciante/RHCP style breakdown with fuzzy guitars and bass raging.
"Blackwater" is another soulful alternative rock track with a slight funk a la Chili Peppers. The feel is pleasant, if not overly hooky or affecting. "Circuitry" lets the band shine a bit more as they take on a ska rhythm and give Micaela Kingslight the chance to do what she does best — flow like a river and let her charisma show. The mood is both catchy and gripping.
"In My Room" was a surprise, with its sudden folk departure, but the band shines here, and, much like the Smashing Pumpkins, it would be a good move to incorporate even more of this style into their act. Both the music and vocals are gorgeous. "Any Minute" positions Micaela as a doomsayer, albeit one with a much more seductive and engaging voice than any town crier I've heard. The Fiona Apple influence once again shines here. The beauty of this song, and the mystery, is that she sounds ok with the approaching doom. There is a menacing, peaceful delivery here and it's one of the more intriguing aspects of the album.
"Sky Highway" is a great alternative track that captures some of the showgaze beauty that acts like the Pixies were famous for. "Spoonful of Sugar" shows Fly Paper flexing their blues muscles, and there is definite tone there. It could have very well been placed earlier in this collection. "Second Skin" and "It's Gonna Rain" both have similar vibes, with "It's Gonna Rain" taking the edge. It's quite infectious, and shows the types of grooves Fly Paper like to stick to.Fly Paper's self-titled debut is a good album. The music, at times, doesn't have too much to offer and the band would benefit from some more creativity as far as effects, chord structures, fresh ideas; Micaela Kingslight emerges, however, as a fascinating talent, and the band has great potential. This would be an excellent live act.
By James – james@independentmusicpromotions.com
[Rating: 3.5/5]