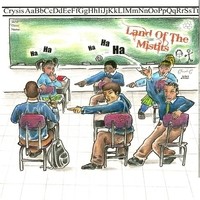 Crysis Chris (Chris Rodriguez) is an independent rapper from Queens, who connected with music after a very difficult road of death, violence, illness and despair hitting close to home multiple times. We can all relate to hard times in some way; it just hits some of us harder and in a more condensed period. Sometimes it cripples us, and sometimes we become determined and choose a life path for ourselves, creating new possibility. Crysis Chris is definitely in the latter category, as he chooses to record an album rather than wallow in regret. His latest release is called "Land of the Misfits", and it's a refreshingly honest release.
"Window's Pain" opens with a catchy beat and a hypnotic sample. When Chris jumps in, his flow is quite good. There is the odd time that a line is rushed in order to fit extra words in ("Me and my 17 year old sister had a big age difference"), and this slightly lowers the chi, or the flow, of the track, but overall he's hitting the mark and the tone is impressive.   Chris's descriptions of his family life are painfully honest — no fronting or materialism worship here, and this sets the tone for a hip hop release that's more emotionally conscious than most.
"Karma's Gonna Get You" keeps the same tone, although the general tone is more haunting; suitable as Crysis Chris tells the tale of his grandfather's suicide and its toll on his family. His flow is on point here and the song is carried by his witness perspective. It seems Chris's gift is to share openly and without judgement — from depression to fear of death, there are topics explored here that I rarely hear in 99 percent of hip hop albums, and that's a shame.
"Every Now and Then" is another solid track where the lyrics are more sparse, but perfectly relatable and in complete harmony with the driving sample. This is a track that anyone could relate to. "Devil in the Bottle" comes as almost a surprise, because you don't think the album could get darker before hearing the slithering beat and the lines "The devil in the bottle wants to tempt me, so I drink the bottle until the bottle's almost empty", and it's extremely catchy. This is one of the more hook-y tracks on the album, and Chris is really exercising his flow here.
Things slow down somewhat over the last 3 tracks. The lyrics in "How High Can You Go" are much slower and partially come across as phoned in ("Like an astronaut I'm so fly…with wings on my back I'm an angel"), although the positive message is welcomed. "Girl, You Drive Me Crazy" is a little slim on the sampling and could use some driving bass to push the beat forward.   "If I Die Tonight" is a solid track, although Chris falters when he tries his hand at singing "If I die tonight", and the song would have been more powerful if a guest vocalist took over the duties. It sounds like this track must have been recorded earlier than some of the middle tracks, because there is such stellar material there.
Overall, this is a solid release from a worthwhile independent rapper who is worthy of respect and acknowledgement from the indie music community. "Land Of The Misfits", though it has its faults, shows a rapper who is beginning to come into his own, demonstrating a flow that could be absolutely vicious by the time we see Crysis Chris's next release.
By James –  james@independentmusicpromotions.com
[Rating: 4/5]