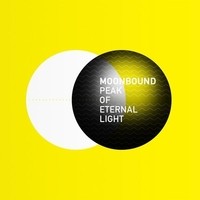 There is a difference between nostalgia and the respectful use of tradition. Moonbound, the solo project of Fabio Trentini, is an intriguing example of the latter. Accurately self-described as "80's pop rock with progressive influences", that's not all there is to the picture. Moonbound's new brilliantly titled release "Peak of Eternal Light" feels fresh and full of originality and colour. This is not by any means a novelty act looking to solely explore previously experienced sonic terrain. Rather, Mr. Trentini's work feels like progressive electronic music with honest and emotional vocals skillfully guiding the journey. Picture Porcupine Tree and Depeche Mode colliding peacefully.
On "Our Day Will Come", Fabio Trentini joins us immediately with a whispery, sincere voice reminiscent of Dead Can Dance's Brendan Perry, in mood if not in tone. The mood is solemn and yet beautiful and inspired. When the backup vocals come into the mix, you feel elevated. There is really so much going on here. Skillfully chosen guitar pieces were placed there solely to elevate. Dramatic piano keys played at the right moment for the same reason — elevation. Like production mastermind and fellow 80's lover Trent Reznor, Trentini knows how to build textures and sounds that reach to the heart centre. If Puscifer or A Perfect Circle released this song, it would be a fan favourite, with its affecting, sweeping chorus.
"Flash Through Your Brain" is slightly more upbeat, and chalk full of colour and creativity. Sometimes it seems that musicians are mostly playing by the rules, desperately appealing to the "industry". That's not the case here. This is experimental, yet accessible. Peter Gabriel comes to mind in this track where the mood is full of absolute wonder, as the title suggests. The Pink Floyd-inspired synth is gorgeous, and there is really nothing to improve upon. It's beautiful work.
"Heatwave" is less interesting sonically than the first two tracks, although it remains worthwhile because of Fabio Trentini's inherent sincerity. There is ear candy galore, whether it's an unconventional bass fill or a percussive snap. "Here in Wonderland" changes timings again and we're lucid dreaming pleasantly. The musical arrangements continue the album's pattern of warm and lush atmospheres, and the playing itself is far, far beyond good. From masterful drum fills to David Gilmour-esque guitar pieces to triple harmony layers; it's all professional enough to sit directly alongside the prog rock and pop greats.
"A Reason to Hope" slows the pace naturally, pleading "Please take my hand. Warm up my soul" on the chorus. Once again, a song that uses a somewhat traditional format is made engaging and interesting by the strength of the artist. "Peak of Eternal Light" is a futuristic instrumental that gives Trentini some time to display his musical talents without needing to accommodate vocals. Fans of Rush, King Crimson, Tool or Porcupine Tree would find something to enjoy here.
Other highlights of the release include "Dreams Are Funny Sometimes", which makes a strong bid for radio play with its intensely catchy and upbeat chorus, the intentionally political "In the Country of the Blind", and the suitably atmospheric closer "While We Sleep". Overall, the second half of the album loses a portion of the intensity and creativity of the first. The first half is more openly exploring, while the second half sounds more mainstream and "settled".
Overall, "Peak of Eternal Light" is a great album worthy of respect from the progressive rock and intelligent pop communities. The musicianship and production are both masterful. Highly recommended.
Independent Music Promotions – james@independentmusicpromotions.com
[Rating: 5/5]