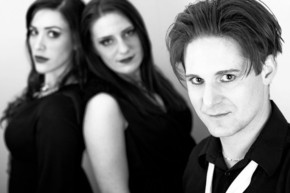 Being that Skope started in Boston over 12 years ago, we have seen many artists come & go. My guest today has been around for most the time and that has placed him in high ranks in the New England music scene. Matt Cahoon's band Everpresent have been making music for years and you know that this is something he does because he has to. Matt is a one man band but he does keep two beautiful woman around to help visually & musically. I got to hear Matt's album 'Phoenix' and I just loved it so I wanted to have him on. Matt opens up about playing Skope Live!, who are the two sexy ladies, conquering the mainstream, and much more. For all you looking to create a fan base in music take note of Matt and his one fan at a time approach!
Stoli: Where are we talking from today and are you at all into the Super Bowl between NY & New England?
Everpresent: I'm here in Boston and though I admire the athletes in the Super Bowl I'm not really a follower of football.   Martial Arts is more my thing.
Stoli: Being a longtime member of the Boston music scene, Matthew Cahoon is a popular name in town. Please offer Skope readers a brief history?
Everpresent: We've been around and based in Boston since 2002, have released 5 cds (all available on iTunes and cdbaby) and 1 DVD, and have played colleges and clubs in this area.   We tend to get even more exposure online and through national college radio as well as the internet, but we're around and are a constant presence.
Stoli: As someone who has supported Skope for over 10 years now, how does it feel to be Featured here today?
Everpresent: This is fabulous because we actually played at a Skope-organized event back in 2007 at the Middle East, so we are very grateful for your attention to us once again.
Stoli: How much of an influence were your family/parents to get into music and make it a career?
Everpresent: My parents have both been musicians most of their lives and both performed and toured regionally in the past.   They recognized my musical tendencies when I was about three but were very supportive of the idea to let me approach them about when it was time to start taking formal lessons, which I did at the age of 9.  
[youtube Vcsiqe5Gia8 nolink]
Stoli: What instruments or software to you use to create your beats & instrumentals?
Everpresent: As far as the beats and instrumental parts, they are a mix of electronic synths/keyboards and acoustic drums and guitars.   It is this hybrid approach that makes the music "breathe" more and be precise and multi-layered.
Stoli: I have your album 'Phoenix' playing now. Why did you title the album that and how long were you writing the songs?
Everpresent: The album has been named "Phoenix" because it represents a peak combination of elements of our previous releases that touched on gothic,rock, electronic, ambient, and r+b, and adds a new Middle Easter flavor to our sound.   We also chose to reinvent our image and put our "faces" out there much more…and we spent much more time in the studio and picking the best of the best songs.   We spent a total of 2.5 years on it which is the longest we've ever spent crafting a record.
Stoli: I love your song "Resurgence." What is the meaning of that song for you?
Everpresent: For me, that song is the interlude that brings you into the next track (and corresponding video), "Darklight."   It is also creating the vibe of a new era for us, and us resurfacing with a new approach since 2007's "Collage" CD.
Stoli: Who are those sexy looking woman on the album cover and are they part of the group?
Everpresent: Those are my good friends Yeshiva and Victoria.   Victoria has been part of Everpresent since 2003 and has contributed to not only the latest "Phoenix" album, but also 2004's "Singles and Remixes" and also has performed live with us. Yeshiva just came on board recently for the "Phoenix" album but I have known her for many years, and through our musical conversations, it was an easy choice for the new material.
Stoli: When I hear music like yours I get frustrated that the mainstream media will not give musicians like you more play. What say you?
Everpresent: It's very interesting because if you were to Google "Matthew Cahoon Ever-present" you'll come up with about six pages of results, and we have had national college radio play in at least 25 states and parts of Canada, plus reviews in several countries such as Spain, the UK, and Israel.   The "Darklight" video was on about 50 websites including bing.com and Spike TV's site, but yet we are still "under the radar".   We'll see what happens in the next year or two…but we are definitely building towards something and it's actually be very enjoyable–the gradual rise, as longevity is far more important to me than the short term.
Stoli: What musician has had the most influence on you and your sound?
Everpresent: There are many, but the four artists that I return to the most are Michael Jackson (particularly the Dangerous album), Depeche Mode (especially the Violator/Songs of Faith and Devotion eras), Prince (various songs that are more experimental from different albums), and Rush (especially the synth/electronic period as well as the more alternative parts of their work)
Stoli: How hard is it being a one-man band or do you feel more creative freedom?
Everpresent: I find it to be more creative and wonderful to be both very strategic and very decisive.   I like being the central brain from which our efforts originate, and then collaborating with others as I see fit to contribute to our sound and vision that I conceptualize.
Stoli: What is coming up for Everpresent & Matthew Cahoon and where you @ online?
Everpresent: You can find us at www.everpresent.org. What's coming for Everpresent is MUCH more promotion, returning to live shows, and more videos……so stay tuned and thank you so much for this opportunity!