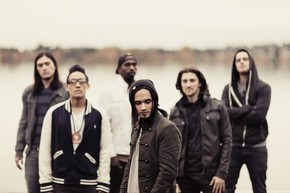 People are always asking me why a certain band is not big yet, but they are so talented. Well I am here to say that we can no longer sit around and hope for stardom we shoudl all support & get involved. With technology, social media, Internet, we finally have the tools to spread the word on our own and not wait for radio or MTV. I puked in my mouth when I heard Madonna is playing the Super Bowl. There folks are out opf touch. Today though I have a band named Lion's Ambition who are energetic, talented, genre agnostic, and are seriously pushing their music. Check out their album 'The Application' and you will hear the huge potential these six guys have. These guys play all over Seattle and are here to talk about the album, merging genres, other bands they like, and so much more!
Stoli: Where are we talking from today and how is 2012 been so far?
Lions Ambition: Hey whats going on? We are here in Seattle, WA! Currently in a middle of a snowstorm! haha. 2012 has been great so far. We have some great show dates in the upcoming months, newmusic videos and an upcoming EP we are releasing on iTunes and our web site.
Stoli: I love the name of the band. How & why did you come to name the band Lion's Ambition?
Lions Ambition: The name actually came from myself (Frankie Starr) and our lead singer Richard Austria. Richard and other fellow band member Marlon Turner are both Leo's that was the start. Additionally we all find inspiration in the Lion through it's pride, courage and leadership. The ambition part came from all of our personal desires to achieve success. Everyone in this band has strong ambitious characteristics which translate in our music.
Stoli: How did the 6 of you come together to form the band and do you hangout when not doing music too?
Lions Ambition: The six of us are all really good friends. We have lived together, went to school, worked, and grew up together. One of the longest relationships has been between MC – Frankie Starr and Bass player James Lobbett. They have known each other for over 20 years! Outside music, about 90% of the time you would see at least 2 or 3 of the band members together in some form, from hanging out, eating, playing video games, working out…. ortrying to find girls.   haha
Stoli: What made you title this album 'The Application' and who did the album art?
[youtube LQF8ikXAR7g nolink]
Lions Ambition: The title of the album came from the idea that this was our first professionally put together piece of music. Essentially our application into the music business. We fused multiple styles, sounds and genres together to try to show the public what we have to offer. It was our introduction to the blue-print of what we hope translates into multiple records and projects, the beginning of the Lions Ambition movement.The album cover was created by an amazing artist Siya Oum (http://www.siyanimation.com). She took all of our random ideas to be in the clouds and turned it into one bad ass piece of art. lol  
Stoli: I love music with a positive message. Let us know the meaning behind the track "Dreams"?
Lions Ambition: 'Dreams' was inspired by the ambitions that we all have to make it in this music business. The drive to follow what you love and not letting go of that same desire that inspired you in thebeginning.
Stoli: The merging of genres in your sound is smooth and sounds good. Explain how you bring the rhymes, hooks, and instrumentals all together?
Lions Ambition: The process of alot of our music starts with lead vocalist Richard Austria. He has so many innovative ideas in multiple genres, the concepts are then developed further with guitarist KC Jose and Bass Player James Lobbett. After the arrangements are done, we all try to find a feel and the mood of the record. Final steps are usually myself (Frankie Starr), Richard and Marlon who piece together ideas to find a concept for the song.
Stoli: Your album, 'The Application' is very well done. Where did you record the album and where can we buy a copy?
Lions Ambition: Thank you! It was def the best experience putting together all the pieces. We recorded/mixed the record at Jupiter Studios in Seattle with producer Joe LaRosee. The album was then mastered also at Jupiter Studios by Martin Feveyear . You can purchase a copy on iTunes (digital downloads) or our web site www.lionsambition.net (physical copies).
Stoli: You guys have played many venues in Seattle. How is the music scene there now and what is a great music venue I should go to when in town?
Lions Ambition: The music scene is Seattle is amazing! So much talent coming out of this city from Hip-Hop to Indie Rock, Punk, House its pretty amazing. Everyone is very supportive, it really gaveus the confidence to push our music into the mainstream. Some great venues are: The Showbox, Paramount, Nectar Lounge, King Cat Theatre, The Neptune, the list goes on… Alot of really great venues.
Stoli: What bands that are under the radar are you guys listening to now and would suggest?
Lions Ambition: New Heights is a really great band that makes tremendous music, Marcus D is a very multi-talented hip-hop producer that has many accolades with local and national artists, Eclectic Approach is a great fusion band as well that is up and coming and Micah B and Eighty4Fly are setting the bar high in the Seattle Hip-hop scene.
Stoli: Not to be a buzz kill but are you concerned about the nuclear fallout from Japan in the Pacific Ocean?
Lions Ambition: Really haven't read to much into it.. so no comment really…
Stoli: What is coming up for Lion's Ambition and where you @ online?
Lions Ambition: We plan on releasing a new music video next month as well as announce some new show dates. Also have new merchandise products, a new EP and of course a few more surprises. So def keep in touchon Facebook, Youtube, Twitter @Lionsambition and our official site www.lionsambition.net.
Press Kit: www.sonicbids.com/lionsambition
Official Site: www.lionsambition.net