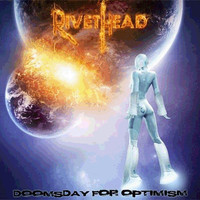 Get ready for a petal-to-the-metal, head-on assault that is Rivethead and their mission is 'Doomsday For Optimism'.   From the moment you push play all the way through to the end, Rivethead and their latest effort never let up on the gas.   Aggressive, in-your-face music that will energize your senses and ring loud in your ears is what you will experience from 'Doomsday For Optimism'.
Rivethead plays LOUD 'n' HEAVY music that is quite intense in texture but highly diverse in substance.   No question about it that this band and this record is in the metal category but Rivethead seems to have a unique presence.   I actually just watched a Nine Inch Nails concert for the first time the other night on my Blu-Ray Player and can't help but notice the major influences here.   That industrial metal sound mixed with dark, goth-like elements that NIN made so popular is also very evident on 'Doomsday For Optimism'.   Singer Steve Page, who is also on keys and guitar, was really reaching deep vocally as I could really sense his inner Trent Reznor trying to emerge here.   Rivethead's remaining members include: Kevin Kerr on guitar, D3B0 on bass and Mark Halford on drums.   You definitely sense an overall NIN-type vibe going on that the entire band really brought to life.  
Rivethead is no stranger to the spotlight as this gruesome foursome have already shared the stages with the likes of: Sevendust, Mushroomhead, Saliva, Crossfade, Powerman 5000, Drowning Pool, Trivium, Black Stone Cherry, BILE, A Dozen Furies, The Burden Brothers, Silvertide, Element Eighty, Green Jellÿ, Psychostick, Nashville Pussy, Earshot, Divide the Day and others.   Not to mention every time the Dallas Stars score a power play a Rivethead song is penetrated throughout the American Airlines Center–how cool is that!   Other accomplishments include being placed on Sirius XM Radio, songs featured on VH1 Classic, Spike TV, "Gene Simmons-Family Jewels" on A&E & "The Bussey Bunch" on Discovery/TLC.   With this record being Rivethead's seventh installment I'd say this group is well on its way!
Get ready to bang your head and scream at the top of your lungs just like Steve Page & company on 'Doomsday For Optimism'.   I completely respect the energy and brute force that Rivethead brings to the table here but just a little too much for my taste from a vocal standpoint.   I feel that this band still has a lot to prove so get ready metal heads for RIVETHEAD and their monster sound!
By Jimmy Rae (jrae@skopemag.com)
[Rating: 3/5]