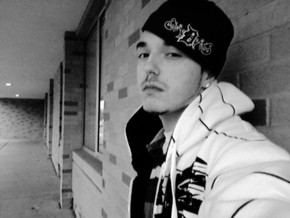 DZ tha DOK is co-founder and producer for Bassment Bangars, a father & son beat making and song writing duo specializing in hiphop, electro and pop sounds for artists, media projects, soundtrack and more. http://www.bassmentbangars.com
1. What is Bassment Bangars?
Bassment Bangars is an upstart beat production project team between me (DZ The D.O.K) and my pops (Douglas Garnett) and Bass is our specialty. We have been talking about doing something big like this for years but I wasn't really ready (laughs). I had to step up my beat game, I was observing other producers big producers and seeing how they work their technique. Then I would try to imitate it, especialyl with EQ techniques and drums.
I am a fan of the AKai MPC series, I love the sound it brings especially the older models. I've learned to make samples raw and gritty off an old record to give it a warm, classic feel. I try to emulate Pete Rock, Jay Dilla, The RZA, DJ Premier and Boonie Mayfield. And you can hear some of that in some of our beats. We also do some pop and dirty south hip hop with a different twist. We are a little bit of everything. We are creating a new definition of our current music which is slowly coming out of a creative crawl. Music in these last few years been on and off. Our goal is to help artists and producers get that sense of creativity back.    
2. What sets BB apart from other beatmakers sites?
We are a simple site that goes straight to the point. The music. We don't require a thousand sign ups or fancy interactive menus that play games. We're here to demonstrate our creative vision how we perceive music.
My Dad's a very hard working musician, and always had a different way of perceiving music, he was considered one of West Michigan's top guitar talents for the longest time. He went underground, but when he did he taught me almost everything he knew when it came to Audio Engineering and Sequencing. It wasn't easy, I had to experiment and learn alot on my own, but together the effort pays off and you can hear it in our beats.
3. What inspired you to create hiphop music?
My Dad, he has been a big inspiration in my life. Even though I used to be afraid of my Dad's guitar skills as kid.(laughs)
As I got older I really saw how awesome his musicianship is. I started to get into soundtrack and voice acting/recording through my interest in anime at the time, but it didn't quite work out like that. In the process I learned a lot about the science of music. It's a tough experience man when trying to learn the in and outs. Fun at times, and others a pain. But being a fan of music in general since I was a child just humming tunes and rhythms in my head helps.
Life has all sorts of rhythm and vibrations and that my friend is what music is. An rhythm vibration aka organized sound. I like it all, blues, jazz , rock, techno, hip hop the most, and soul, funk, soundtracks, orchestrated symphony. All sorts of styles man. You can't be just a musician and stick to one thing, you have to kind of get a feel for it all. I want to expand hip hop like instrumental music was in the 70s. Very space, vibey and atmospheric, music had a total different feel to it with alot of different styles and creative artists. That's what I want to bring back and do things that other producers aren't doing. What sound can we bring thats not out there, or how can we bring back this type of sound but still make it sound fresh?
4. How can BB help artists?
Artists are eventually going to get tired of the sameness. Listeners too, people are going to be like 'man I am sitting here wasting my time to all this empty stuff'. They are going to want something with a little flavor, that got some soul to the taste. Not just 'aww, they rehashed this in 15 minutes, how cheap'. Because there are still innovative artists doing original things with creative ideas that aren't being heard. We're about expressing creative freedom and trying new things. It may take some time, but it is worth every step. At the moment we're building, but we have a lot more to create. And that is just fine, because over night success never lasts long.
We are willing to collaborate with any new creative open minded artists and producers. You've got to be with people that give off the right energy. I love working with artists, but some you can never see eye to eye with and it makes it difficult trying to collaborate when you can't find a common ground. Sometimes that can be good 'cus it makes you work harder pushing your creative drive and limits.
5. How can BB help film makers, television, radio and commercial projects?
We talk about getting into soundtrack type of music for the longest even before doing hip-hop. My Dad copped me like 3 different soundtracks that I listened to hours and hours. I remember one of them was the 8 mile soundtrack. Very dope back in the day. But I always listened to Anime, Video Games, Cartoons, Movies, TV Shows, the soundtrack behind them. Like if you heard the Star Wars theme you immediately recognize 'oooh that's Star Wars' (laughs) or a certain song in the background playing during a big event in the movie.
Soundtracks set moods to situations that make them memorable, classic, giving a depth of atmosphere. Like a TV jingle can be funny or just catchy to make you go to a store and think of that warmness when you see the product from that specific advertisement. Eventually Bassment Bangars wants to venture into new fields in music. I ain't much of a business type, I do it for the love of music first and foremost, not money. But it would be cool to contribute a soundtrack to some show or a big time movie. Just to say we did.
6. Any advice or statements would you like to conclude with?
Bassment Bangars Productions. We got that bass for ya taste that puts boom in your face quaking your whole place. Get some 18 inch subs or some super (quality) bass headphones. You are going to feel a thump. We've got an underground sound that can bring something new in my opinion. But don't take my word for it, decide for yourself. Make sure you've got your subs hooked up first. Thanks for interviewing me. Peace, Bless, and One Love!
Check out http://www.bassmentbangars.com Right now thru Christmas get 50% off ALL TRAX~
Rescue Records ~!DiGDuGDiSaSTeR!~ is a published songwriter, musician and writer.
Contact: ~!DiGDuGDiSaSTeR!~ @ douglas.garnett@gmail.com