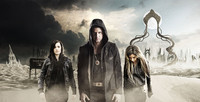 The Particles, released their new nine-track album, "Voices," this past October, but in little over a month's time, the London based band has received unprecedented notoriety from the States as well as abroad. The band members define their genre as World Music — hard rock infused with ancient Eastern instruments and three powerful vocals, led by Ash – also lead songwriter – and his two female band mates, Nayla and Sabrina. The trio describes their union as a "mystical alliance" — they each share an appreciation and desire to fuse the ancient sounds of the East and the rawness of the West's hard rock. "Voices" is the successful result of their efforts and this vision.
[youtube 9XZWky6t6dM nolink]
The album commences with an explosion of hard rock guitar enhanced by Ancient Eastern instruments — you can hear the distinct strumming of the Sitar, the subtle sound of the Nay (an ancient flute), and the constant Def (ancient drum) holding beat until paired by the crisp vocals of Nayla and Sabrina. Aptly titled, "Crusade," this first track establishes the mood constant throughout the album — it is soulful and yearning. The most popular track is obviously "Taken Away," which has become a viral sensation on the Internet and the music video has been recognized at film festivals ranging from Toronto and London to Denver and LA. Despite a supposedly low budget, the music video appears to be of superior quality   — think Hollywood epics like 300 or Troy — and depicts the coarse voice of crusader Ash, decked out in ancient warrior garb, struggling against the opposing mystic characters played by Nayla and Sabrina.
At times, their sound is reminiscent of Evanescence but certainly not in terms of actual narrative and execution. Their understanding of Eastern mythology and instrumentation differentiates The Particles from others similar-sounding bands. Each track is a narrative and each voice represents a character and in a sense, this album is their very journey — finding a wholeness and cohesion of all "the particles" at the end of their crusade. "Voices" is an album that is both new but nostalgic and I'm definitely interested to see what crusade this power trio takes on next. Check out The Particles' "Voices" for yourself at www.the-particles.com
By Marion Bradford
[Rating: 4.5/5]