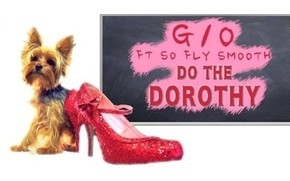 I woke up this morning and I got to be honest that I am feeling it. So I decided to double up on features for the week. My guest today is authentic, fun, & confident. That is why I am so excited to have Giovannie aka G/O here to help me kick off the weekend. Now I know you may think that "Do The Dorothy" is another dance fad but this single/video is making people pay attention so it's working. There is so much more to this emcee and she talks about everything from her rough childhood, the Occupy Movement, her diverse Haitian/Italian background and so much more. G/O is also offering a free download via Souncloud to take with you. Happy TGIF all!
Stoli: where are we talking from today and what are your plans for the holidays?  
G/O: I am talking to you from New York for the holidays, I will be in Mexico for Christmas in my cave making magic! That next hit record! Then new years in Vegas to see "Drizzy" Drake perform and then back to NY to work on more music
Stoli: Have you taken any part in the occupy movement and do you agree with what they are protesting for?  
G/O: No I didn't take part in the occupy movement, I agree with what they're fighting for and I feel like its getting out of control. The unemployment, job cuts and the banks funny busines is crazy. The rich just staying in control, I feel that it should be a more equal distribution of health, the one percent reach is in control in the expense of other stock market, manipulating the public is totally wrong, I believe in hard work and being successful but not at the failure or cost of another.
Stoli: At what age did you decide that you loved hip-hop and wanted to pursue a career in the music business?  
G/O: I was five years old, I used to go and sing to the students in my Pre-K class in French, and I got picked up by this company to go on the road, however my family believed that was the wrong move for me and turned it down  
Stoli: How did you get the alias giovannie aka g/o or is that you real name?
G/O: My real name is Giovannie Pierre-Louis, I am half Haitian and Italian, I am real diverse like a box of chocolate split down the middle, so I thought G/O pronounced Gio was creative short for my real name Giovannie
Stoli: How have your family & friends supported your music & drive in the tough music industry?
G/O: My family are not too happy, I put my medical career on hold to follow my dreams. This is a dream of mine and my sister, rest her soul. As children we would perform to dolls and our imaginary friends. The reward of communicating your experience to others in music is breath taking! My heart is in the right place. I love my career in the hospital helping others, but music is also a form a therapy for people to connect to and heal I feel, and I can hear people chanting my lyrics and name in my sleep!
Stoli: When you sit and write your rhymes where do you get most of your inspiration and content to write about?
G/O: Most of my inspiration comes from the rhythm of the beat. The flow of energy I feel brings words and melodies together, It's a beautiful feeling. I can go four hours just me, the mic and music, I just go! I had a troubled child hood, So I draw a lot of my emotions and ideas from that. The name of my project is nothing stays bad forever, I want my audience to gain experience and understanding from that. This is all about being born in a system designed for failure and coming out of it, anything and everything is achievable if you believe in hard work. I would sleep on the floor and eat nothing for my dreams! I drew from that emotion and determination a zeal to excel in whatever I put myself up to, and I draw my inspiration from those emotions of fear, happiness, discouragement disappointment, success, and failure. It's all a part of the journey to your dreams, that's my inspiration, its never easy, that's what brings out the best struggle, my skin is thick through my experiences of struggle and my inspiration is generated from all that.
Stoli: You had it rough coming up. How has that experience shaped you as a strong woman and emcee?
G/O: As a child I could not understand why the world was such a mean place, it was bad at home, bad on the street and bad at school. I had no where to turn, I started to turn to food for help because music was taken from me, I went through a meltdown at age 8, I got kicked out of school as a straight "A" student because of my behavior and then sent to Haiti, that's where I learned the hard way that I had it good. I took things for granted like education, people, water, and light. I realized my pity for my self was breaking me down and i kept asking why me?? It forced my eyes open, being hungry sleeping with rats and roaches, I didn't understand the luxury I had in the states or appreciated who and what I had till then. But I needed that, I was on the path of destruction before Haiti. My whole project was to stimulate from the emotions. I couldn't understand or express, I had muffled for years.
"Do The Dorothy" Download: http://soundcloud.com/itsgiovannie/do-the-dorothy
Stoli: You are getting crazy buzz from "Do the Dorothy." When did you write that anthem & talk about the concept for the video?  
G/O: I recently had a long ride to Canada, I am a big Drake fan, and I went to the O.V.O. concert in July but we drove there and as we passed the waters my mind drifted to the Wizard Of Oz, Dorothy! Like it just passed my mind from head to toe, it was me! Dorothy! when we reached Toronto I kind of clicked my feet and was like   "I'm I'm home" and everyone in the area starts laughing and I was like "Yeah" ! That's it, I hit my producer Yarley from The EarBeataz and he sent the beat ASAP! it was magic, I kept real close to the Dorothy and things I really enjoyed in the movie, I then had the double D's designed a sneaker for the kids, and there goes the movement, something for the kids, educations is power, the door to dreams when nothing else works, master a craft and the sky's no limit.
[youtube lpEZwiPT8Mk nolink]
Stoli: How does it feel when you see fans all over the world watching "do the dorothy" and checking you out?
G/O: It's a beautiful experience, I had just came out of a surgery, I was not ready to complete the video my lite foot movement brother hood came last minute and supported the kid, When I created the record I was real happy and proud of myself for reaching this far on with my music family. I successfully expressed my record to another through the communication of music and it feels amazing. The little girls in the video all came at the end and told me they love me and want to be like me, they look up to me. My music successfully touched them, it brought tears to my eyes, and I love music! Music is g/o
Stoli: As a female emcee do you feel pressure to stress sex appeal and how do you stay active & looking fit?  
G/O: No, I used to weigh 450 pounds, you don't care after that, and you lose that feeling. I dropped to 250 pounds, no pressure. I did my kick-boxing, dance, the treadmill, drunk a lot of lemonade and water, do advance step courses and lift weights. My doctor told me that this was impossible to do and I did it, I overcame the depression of my lost and made sexy fat real sexy! That's my category.
Stoli: In these trying economic times, what advice/inspiration can you offer to the people on the streets struggling?
G/O: Make the most of your circumstances gear up be an opportunist, be prepared when its time to fly high, feed your mind, education is power its time for changes. Two hearts can change the world, take your place, feed your soul get spiritual, connect within and feed your body right. That's the formula for success once u have that, it's straight to the top. Stay focus on the prize, your prize, master your craft, excel your talents and don't worry about the past, it's the past that took me a long time to learn life teaches lessons, take them and move. Don't let negative energy distract you from the prize, it's ok to ask for help and start over.
Stoli: What is coming up for g/o and where you at online?
G/O: I am currently working on my EP, now "Nothing Stays bad4ever" and also a kid's campaign to promote the importance of education. I also have my "Haiti foundation" a.k.a "Haiti la vive" Non-profit, building a school of performing arts for children to go and express their talents and excel. Music, Poetry, Painting, Dance and any form of Arts. Haiti needs that, the children is our future, lets build the foundation, plant the seeds, and give them a chance. They need to understand and appreciate what an opportunity means, Haiti changed my life and I am grateful, and I wanted to give back to my country.   Support your girl Gio GGGGiO. I'm in the building
Follow me @itsgiovannie.
Hit me on www.itsgiovannie.com.
Facebok.com/itsgiovannie
Youtube.com/itsgiovannie
Love your self two fingers and a wink feed that mind. G/O loves u.