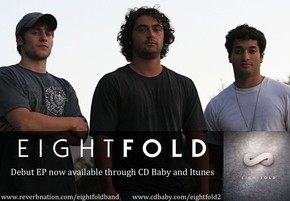 Man its good to be back at it. I enjoy a long weekend but then I begin to get antsy and I need to get back to Skope & this music that I love. My guests today are very talented as you will hear but more than that their sound gives me a feeling of nostalgia of my younger years in life and I need that every once in a while. I am talking about the trio from Madison, CT EightFold and their debut EP which is out now. These guy define what I am looking for in a rock band as they create music that is unique, catchy, and real. Join us today as I present the next big band out of New England and we discuss Operation: Music Aid, their origins, the debut EP, and much more!
Stoli: Where are we talking from today and are you nervous about a solar flare shutting electricity throughout the world?
EightFold: Hahah we're terrified.   We are currently in RocKLanD StuDios just finishing up a band practice.   Thanks for having us.
Stoli: You just released your debut album. How are you guys feeling about that accomplishment, and how did you celebrate?
EightFold: We feel great.   It's been a long time coming.   In retrospect there are always things you want to change but we're doing different things live to keep the songs fresh and continuing to write and record.   The next disc we're currently recording shows a lot of growth.   To celebrate, we had a bunch of our friends come to the studio and had a good time.      
Stoli: How did Eightfold come together and when did you guys start working on the album?
EightFold: Eighfold came together at the beginning of 2010.   The band started at RocKLanD StuDios in Madison, Ct. where Steve and I (Mike) were playing in a different band.   Things never worked out with that project so we began to write and record our own material.   We ended up recording twelve tracks and chose six to put on the debut EP.  
Stoli: There are three of you in the band. Are you guys friends beyond the band as well and what do you like to do for fun?
EightFold: Absolutely. While not playing guitar, Steve collects vintage khakis.   Andrew enjoys long walks on the beach and Vanessa Carlton.   Mike likes gym shorts and being the little spoon.  
Stoli: Being from Connecticut do you guys take advantage of the Boston & NYC live music scene and where do you want to play and have played?
EightFold: We've been playing mostly shows in Ct. but are in the process of booking in the cities.   Each member has extensive gigging experience all over the east coast and we're looking forward to branching out as a band.
Stoli: I love your song "Simplify." Who wrote that song and what does it mean to you?
EightFold: Thanks man, we appreciate it.   Steve and I wrote the first six collectively and recorded it.   Andrew (on bass) joined the band after the recording process but wrote his own live parts. The song is really about seeing a helpless situation and getting back to your roots.   Often times we make things more difficult or more complex than they need to be and the song expresses anger for those who continue living in a bad cycle.  
Stoli: Your album is on sale at both CDBaby & ITunes. Do you expect to sell more physical or digital copies and do you still buy CD's?
EightFold: We're selling CD's at shows but we expect to sell more things online because that's the way the industry has moved unfortunately.   The Internet is nice for many reasons but we focus on an album as a whole.   There's something special about getting an album and the real experience the musicians want to provide.   We absolutely still buy physical CD's and even vinyl.  
Stoli: Are there 1-2 non-mainstream bands that you guys are into and can suggest their music?
EightFold: Define mainstream. Ween, Pavement, Velvet Underground, most of the bands we listen to are not on the radio or have come and gone.
Stoli: Right now the world is facing a global recession but the independent music scene is thriving. How do you explain this wonderful statistic?
EightFold: I think that radio and a lot of the music on it is very corporate and profit-focused, like anything else.   People want change and appreciate passion over plastic.  
Stoli: I love how you are involved with http://www.operationmusicaid.org. What are they about and how can my audience get involved as well?
EightFold: Thanks, Operation: Music Aid is about providing war vets with music therapy on many levels and in many facets.   We encourage everyone to visit the website and support those who fought for our country.  
Stoli: What is coming up for EightFold and where you at online?
EightFold: We're playing a bunch of shows, spreading out across the east coast, and finishing up our newest tracks.   All information can be found at: www.reverbnation.com/eightfoldband
Friend us on facebook!  
Check out www.cdbaby.com/eightfold2 or search us under Itunes as well.