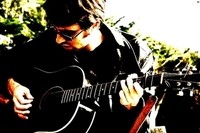 Devin Farney is a composer and pianist based out of California. He has had a lot of work commissioned in the US and other countries as well. But he is now lending his talents to his latest full CD release, "Ventriloquism".
Devin's fingers move swiftly over the keys unraveling a mystical sound. His voice is soothing and mellow leaving you completely relaxed. But there is a little bit of something for everyone if you are wanting music a bit edgier. The song, "Unholy Ghost" picks up the tempo with grungy guitars and a cool haunting synthesized voice.   He brings you back down to earth with, "Just in Time". It could easily be mistaken for a Paul McCartney tune in my opinion. I like the vibe and maybe I'm a bias McCartney fan but it is my favorite track. Continuing with the "Beatles" feel, "Grievances" drives the point home. It has a complexity that reveals simplistic revelations.
Check out Ventriloquism: http://www.cdbaby.com/cd/devinfarney3/
Devin Farney has out done himself with, "Ventriloquism". The beauty of the title is as artistic as the music itself. If you look the word up in the dictionary it reads, "The production of the voice in such a way that the sound seems to come from a source other than the vocal organs of the speaker". I find it fascinating how the music on this CD reflects that exact definition.
Devin has a sound unlike anything on the radio today. It grooves, it is suave, and has a distinctive charm. There is a nuance about this music with an enigmatic flair. It grabs your attention and has you engrossed all the way to the end.
Rebecca Hosking  – hoskingrebecca@gmail.com
[Rating: 4/5]