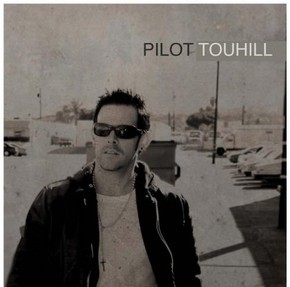 I woke up this morning and I am just so excited that I could not wait to post my next interview. The timing could not be better as we are headed to a three day weekend for Veterans Day. I just made a donation to http://saluteheroes.org and I have one of my favorite bands Pilot Touhill on Skoped Out. I try not to gush over artists on here but Pilot's music grabs me and puts me in a serene state of mind that I yearn for on a daily basis. Pilot Touhill have a new album on Bandcamp called 'Paper Armour' that I suggest you give a listen & buy. Also check Pilot Touhill live in Hermosa Beach, CA at The Shore on November 15. Join us this weekend as we salute the troops, listen to great music, and appreciate the good in life!Stoli: Where are we talking from today and have you taken part in any of the "Occupy LA" protests?
Pilot Touhill: Im just waking up in my apartment in Hermosa Beach. I did take part in Occupy Los Angeles. I wish more people did.
Stoli: You use all the social media like Facebook, Reverbnation, Ourstage, etc. What site do you find most effective?
Pilot Touhill: I find that with facebook, you can be the most interactive with people so I have been using that the most I'd say. Twitter is cool too to let people know whats going on with shows, news etc…
Stoli: You have been doing music for many years now. Offer Skope readers a brief history on how you got here today?
Pilot Touhill: Im originally from from White Plains, New York. I came to Los Angeles 10 years ago because I fell in love with the sound of California bands like Sublime, Incubus & 311. I was in a band in NY at the time but no one was really wanting to pull those influences into the music we were making at that time so I decided to make the move. My cousin moved out to California with me because he landed a role on a soap opera so I fooled around with acting a little bit for the first couple years while I was singing in a rock band. Finally, the last project kind of imploded when my father was killed by a drunk driver in 2008 and I moved back to NY for a couple months. I was going to call it quits & stay in NY but realizing my father was gone & there wasn't really anything left for me in New York, I moved back to LA and started Pilot Touhill with my friend Mark Lowe who has produced the first 3 albums.
Stoli: Your music fuses elements of alternative, rock, reggae & electronic. If I were to get a hold of your music collection, what musicians might I find in there?
Pilot Touhill: I listen to absolutely everything. As I kid I grew up with Frank Sinatra & Dean Martin. My mother was into classic rock, Fleetwod Mac, Bob Seger, Wings, Beatles, etc…I really loved the Police and early U2 growing up & when I hit middle school school it was all about hip-hop. Now I listen to alot of electronic music, reggae, indie stuff, like I said really anything & everything.
[youtube nSnCf5Tegjo nolink]
Stoli: You recently released 'Paper Armour' (http://pilottouhill.bandcamp.com/album/paper-armour). How long were you working on that album and where did you do most the recording?
Pilot Touhill: The way we decide when an album is done is when we feel that we have written enough interesting songs to release them. We are all constantly writing so its a very easy going process and that makes it enjoyable. I'd say the best thing about Pilot Touhill is we create songs without boundaries which allows us to go anywhere we want with the songs & music.
Stoli: I love your song "Foolish Heart." When did you write that and what is the meaning behind it?
Pilot Touhill: Foolish Heart was written in the fall sometime, I don't remember exactly when. I guess you could call it a love song but its really a lonely song about being in love with someone but knowing that its not going to last. About falling in love with the wrong person even though you know you shouldn't but you do because you just can't help yourself. Been there, done that.
Stoli: Being from LA, what clubs do you like to play and any shows coming up on the east coast soon?
Pilot Touhill: I'd say my favorite club in Los Angeles is the Viper Room. In a city that for the most part doesn't care what you sound like as long as 70 people buy a ticket and buy lots of alcohol, I find that the people there actually care about good music. Most of the staff are musicians & I am friends with alot of the people there. We are working on a regional tour to hit the East Coast & the Midwest now but nothing is set up yet.
Stoli: You have put out some great music videos like "Good Morning." How important is a good video to help promote a single & sell some downloads?
Pilot Touhill: I think its really important. The Good Morning video has opened alot of doors for me. I really lucked out with that video. My friend, Chris Cardenas, who is a promoter from Alaska,   introduced me to another native Alaskan, Shawn Morris. Shawn just   happened to have some free time and agreed to direct the Good Morning video for me. He is a super-talented Director and the whole story-line to the video was all Shawn. Since then we have become good friends and we are about to do another video for the single "Head To Toe" off our newest CD Paper Armour.
Stoli: When you are home in LA, where is the best place for you to get away and write music/lyrics?
Pilot Touhill: I usually write most of my lyrics while driving or in my apartment. I like to record the music first and then just loop it over & over again for hours & come up with lyrics & melodies.
Stoli: Things in the USA are pretty rough now. How do you see the state of the USA from where you are at?
Pilot Touhill: I think pretty rough is an understatement. There is a song called "Wasteland" on Paper Armour that reflects how I feel about what I see when I travel to different towns & cities. We have got to come together as a country and figure things out. People are losing their homes, their jobs, their retirement savings. Places that were once full of life are becoming ghost towns and its tough to see the hope with the way the country is being run right now.
Stoli: What is coming up for Pilot Touhill and where can we follow you online?
Pilot Touhill: Best place to find us online is @ www.pilottouhill.com. We have that linked to our facebook page for now while we finish revamping our website. You can also follow us @ twitter.com/pilottouhill & hear some unreleased songs @ pilottouhill.bandcamp.com. We are working on new material right now and gearing up to go on tour in support of our newest release Paper Armour.