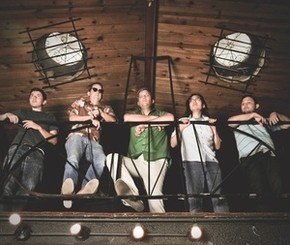 In The Red Records is psyched to announce the release of the second album by Wounded Lion.   Titled IVXLCDM, it is a total ripper!
[youtube Mq9d7sleeXg nolink]
Through the release of several 45s and last year's debut LP, Wounded Lion have established themselves as Los Angeles' catchiest art-punk band.   Fans have stopped and paid attention to their exciting and weirdly direct live shows as well as their strange and original music videos.   When someone experiences Wounded Lion for the first time, their spine both relaxes and activates with happiness as they realize that something really genuine and cool is alive in the LA underground and that they don't just have to rely on rad memories of the Urinals, Suburban Lawns, or Wall of Voodoo to know that something is skulking through toxic runoff of the entertainment capital of the world.