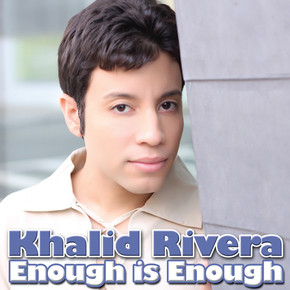 As many of you know, I love when we have repeat guests here on Skoped Out. It means that we are covering artists that understand that to make it you must have hard work, patience, and perseverance. My next artists defines this and his music just makes you want to dance. Please welcome back NYC native Khalid Rivera as he releases his brand new single, "Enough Is Enough." This Interview is time-sensitive as Khalid is hosting tow release parties in NYC on Nov 11 @ The Ritz and Nov 12th @ The Web. Join us today and in NYC this weekend as Khalid lets the world know that his music & sound keep evolving!Stoli: How are you doing today and where are we talking from?
Khalid Rivera: All is well thank you! I'm being lazy at home now. Stayed up late last night going over choreography and sending invites to my release parties.
Stoli: It has been a while since we last had you on Skoped Out. What have you been up to in life & music?
Khalid Rivera: Yes it has been awhile. I'm happy to announce that I'm signed with a new label, Music Plant Group. I am always very busy with my career but always make sure i go out and have a good time! Gotta have some playtime.
Stoli: You recently released your new single "Enough Is Enough." What kind of statement are you making with that song title?
Khalid Rivera: The statement that I am making with Enough Is Enough, is that I'm tired of all the lying and cheating. Haven't we all. It's my own personal anthem. I know everyone can relate.
Stoli: What inspired you to write that song and how did you get the various DJ's and producers to create the remixes?
Khalid Rivera: I didn't write this song. Georgie Porgie wrote and produced it. It goes perfect with my vocal range and styles. He captured my songwriting essence well and delivered and amazing song. Music Plant Group made all the remixes by these well known DJ's happen. Made my job easier for sure.
Stoli: I cannot wait to see the video for "Enough Is Enough." Can we expect that anytime soon?
Khalid Rivera: Me neither! I know that it will be shot in Chicago. It will be shot at some point this year.
Stoli: I still love your song "Who Do U Love." How have you grown musically from that single to now?
Khalid Rivera: I am so glad you love that song! That is still one of my favorite songs that I have written to date. I'm more confident with my songwriting and know that I can always deliver a great product. confidence goes a long way. If it wasn't for the success of Who Do U Love, I wouldn't have gotten signed to Music Plant Group.
Buy: http://itunes.apple.com/us/album/enough-is-enough-remixes/id472881297
Stoli: You have two shows in NYC in November. What can we expect from a Khalid Rivera live show?
Khalid Rivera: No Lip Synching! I will sing my hits especially my new single, Enough Is Enough. I will have my 2 dancers and we will turn it out and have a good time!
Stoli: Recently artists like Pitbull & Chris Brown have merged dance and urban music. How do you feel about what they have come up with?
Khalid Rivera: I love what they have come up with. Dance music will always be around because its such a feel good music. Urban artists are now realizing that they have to expand and grow as artists to try different things. I would love to work with Pitbull.
Stoli: I am going to come down to NYC to go clubbing with you. Where are some spots we will hit up?
Khalid Rivera: I don't know. i go all over the place. Depends what I am in the mood for. I get so many invites on facebook that its easy for me to choose what I will do for the night. I do love to go to tons of costume parties. I am part of Kostume Kult and other costume organizations.
Stoli: I must compliment you on your unconditional passion for music & determination to succeed. Was that something your family taught or you picked that up on your own?
Khalid Rivera: Thanks. I really appreciate that and glad that you recognize all my hard work. It's not easy doing everything on your own. even being with a label, I have to do my part and keep up with the biz. I've always been a passionate person. I picked that up myself.
Stoli: What is coming up for Khalid Rivera and where you at online?
Khalid Rivera: I have my 2 release parties coming in NYC on Nov 11 @ The Ritz and Nov 12th @ The Web. Enough Is Enough, is now on itunes and other online retailers, a music video will be done, radio stations are picking it up and more press etc.
Any one can find me on www.khalidrivera.com. Thanks so much Stoli! Get ready for the holidays…