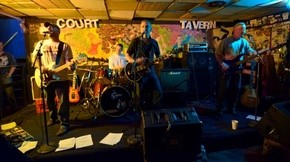 I am still in shock that the Northeast US got our first snow storm and winter is over 1 month away. If this is a sign then we better get the shovels & snow blowers ready. No amount of snow can stop the musical blizzard here at Skope though. Today I have a NJ-based indie-rock band by the name The Fletchers that I am really loving their sound. They recently released their third album 'Heroes Of Gravity' and it is a refreshing collection of new music. Join us this week as I talk with Rob, Cliff, Dan, and Gary about everything from the new album, view their video "Hideaway House", Steve Jobs, and much more.I also want to give a big "WTF" to the NBA for not realizing how fortunate you are to make billions of dollars playing a child's game while others are hurting. You all need to see the big picture and Go Celtics!
Stoli: I have your album 'Heroes of Gravity' playing now and I love it. How long did you take writing & recording the album?
The Flectchers:   The first few songs for "Heroes Of Gravity" were written during the release of our last album in January 2010 — the rest were written in the summer and fall of 2011. We started playing a few of them live in 2010 and then did a demo, recorded, mastered and got the album done inside of three months between March and May 2011. A very productive season!
 
Stoli: In this day of EP's and singles I love how you made a full album. Please explain how you see this trend?
The Flectchers: The band has put out exclusively full-length albums, three of them between 2008 and 2011. I am a singer and songwriter who really misses the concept of albums. Actual collections of songs that set a mood, go together and flow. In the day of MP3s and bits and pieces and sound bites it is something that is important. I was always impressed by bands that could put out a whole album where every song is great and not just filler around 1 or 2 singles. And we have tried to achieve this with every album.
 
Stoli: How does it feel when you read a positive review like the one on Muzikreviews.com?
 
The Flectchers:   I'd like to say that I was immune and don't care what people think, but it's always exciting and rewarding to get a good review. More importantly, that someone connected to the music. I am lucky enough just to be able to write songs and play with such talented musicians, so a good review is gravy. Speaking of talented guys…our line-up since 2008 is me/Gary Kaplan on lead vocals and guitars, Dan Coffey on bass and backing vocals, Rob Freda on guitars and backing vocals and Cliff Heaton on drums.
[youtube 57fRh3luS1U nolink]
Stoli: Please explain how The Fletchers came together and how you came up with the name?
The Flectchers:   In the summer of 2002 I was told by a friend that there was a huge outdoor party in Lambertville and that Ween was going to play that day. So with guitar in hand, I crashed the party and had a chance meeting with the host and bass player Dan Coffey. Within a few minutes, I was showing him a few of my new songs and the next thing I knew I was playing in front of nearly 150 people. The chemistry was immediate and soon after The Fletchers were born.
As for naming the band, it was a little bit of trial and error. The girl I just started dating that summer was a huge (dorky) Murder She Wrote fan and it was on the TV a lot (thanks to reruns and TiVo), so we decided to name the band the Jessica Fletchers. Alas, when I Googled it there was already a little band by that name in the UK (they got much bigger), so exhausted by the name game I decided to just go with The Fletchers. It kind of stuck and the band liked it.
Stoli: I love the song "Sunshine." Please explain what Gary was thinking about when he wrote that song?
The Flectchers:   The song is about feeling inspired by a relationship and challenging oneself to earn trust and prove oneself worthy of love. Some, if not most, of the song was inspired by someone very special to me, so hopefully you're picking up on that vibe. The 3 part harmonies in the choruses are my favorite on the album — very sweet.
 
Stoli: How much time per week is devoted to the band and do you work or as well?
The Flectchers:   The members of the Fletchers all have careers and regular 9 to 5 jobs. I can safely say that I play almost every chance I get especially when I am in the groove of writing music. Banging on the guitar has gotten me through many difficult times in my life, so and I make a point to make time for music. The other band members are active musicians and even play in other projects outside of The Fletchers.
In the 90s, I tried to make it in music full time for a number of years and nearly succeeded. I was in two signed bands — Rotator Cuff and Dandelion Fire. We did some touring, opened for some amazing bands and ended up with a video on MTV's 120 Minutes.
 
Stoli: I am a huge supporter of non-mainstream bands. What two bands in this category do you listen to?
The Flectchers:   I was a big Spoon fan before they blew up and really like bands like Beulah and Placebo. Back in the day, I really loved GBV, Sloan, Pavement, Superchunk, Sonic Youth and Sebadoh. I was also inspired by MBV, Dandy Warehols, Ride and The Stone Roses. All of these bands were underground before they built their following. In case you can't tell, I'm having trouble answer this question, but I'll try… Recently, I have been listening to the Girls and The Kills, two very cool bands.
 
Stoli: I really like your video for "Hideaway House." What song off this album will have a video?
The Flectchers:   I was originally thinking Get It Yourself because of the energy of the song, but more recently I am leaning towards You Hold the Cards or Car Song because they both tell a story and I could see a video taking shape around either of them. Hideaway House was a blast to make and was shot all in one day in our hometown. We are still working on ideas for the next video and it may be a few months but we are excited to get started.
 
Stoli: I cried a tear and was very upset about Steve Jobs. What did his loss mean to you?
 
The Flectchers:   True confession: I own a Blackberry. BUT. I live in an Apple-friendly household (my lady just got her iPhone 4S and it's pretty amazing) and I truly appreciate how he changed the world. Steve Jobs single handedly changed the way a generation listens to and organizes music and has changed computers forever. I was in NYC last weekend and the memorials @ the midtown store were very powerful. He will be missed and it may be a while till be see anyone with that kind of vision again.
Stoli: What is coming up for The Fletchers and where are you online?
The Flectchers:   We are hoping to tour regionally this next year and follow up on the successes we have had in recent weeks on the college radio charts. We are in rotation on more than 60 national radio stations in some really great college towns like Portland, Seattle, Boston, DC and NYC well as on many campuses at home in New Jersey, including our hometown school Rutgers.
More information about The Fletchers can be found on our site www.thefletchersmusic.com, on Facebook as well as on our YouTube channel.