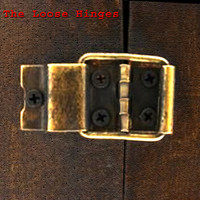 The Loose Hinges is a perfect name here because the music is far from being restricted on all levels.   This group is giving you unlimited choices on their self-titled debut album.   The Loose Hinges gives you a wide variety of musical styles to choose from where you won't know what to expect from one song to the next.  
The Loose Hinges is made of two talented musicians: multi-instrumentalist & songwriter Eliot Houser and lead singer/songwriter Kris McCarthy.   This duo has combined to come up with something that just seems to fit perfectly for these two artists and its audience.   You couldn't ask for better chemistry between Houser and McCarthy as they just simply shine on this record.
Ready to shake up the Nashville music scene, The Loose Hinges offers up 11 songs that will grab your attention.   The entire album really has an exotic vibe to it where Eliot Houser himself referred to the whole project as "mostly dream pop".   I do agree with Houser because you definitely get that dream world meets Pop sensation throughout the 11-track recording.   I would say that is just part of the puzzle though as there is so much more being displayed here.   You'll pick up on a real rock 'n' roll sound on "What You Waitin' For" and then turn around and hear a Cuban influence on "Just Say It" where I was really diggin' the overall flow & rhythm.   Get ready for a trippy approach on "Out of the Sun" and listen up for a bit of a country & folk on "You Do More" where Kris McCarthy gives you a standout vocal performance.   You'll notice wonderful guitar playing that really brings it all to life on the song "Oh Boy" where one can even hear elements of blues, country and bluegrass being touched on.   So as you can see this duo doesn't commit to any one genre but just plays music from the heart at the end of the day.   The Loose Hinge's motto should be If IT works and IT sounds good then PLAY it!
I have to say that I was majorly impressed with McCarthy's singing ability.   She sings & performs with such amazing grace & style where her powerful presence will hit you like a ton of bricks.   Kris has one of those voices that just makes you want to listen up close and you will even experience McCarthy getting in touch with her emotional side on "Don't Be Shy".   As an added bonus you'll even receive a great vocal delivery from both Kris McCarthy and Eliot Houser.   Add in Houser's catchy guitar licks and you have   one damn good album on your hands.   I do have to say that I would have loved to have heard Houser & McCarthy singing harmonies together more like on "Don't Be Shy" and maybe add in a few dynamite guitar solos.   Other than that though I was extremely pleased with The Loose Hinges first effort.
There is definitely magic in the air as you will hear for yourself on this self-titled debut release.   The Loose Hinges seems to have that IT factor and I just wonder what they will come out with next!   I am very excited about the future of Loose Hinges as they continue on and offer endless possibilities to their listeners.  
By Jimmy Rae (jrae@skopemag.com)
[Rating: 4.5/5]