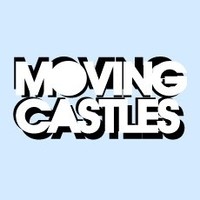 So Moving Castles and 'Twin Daggers'—just what is this all about—hmm…???   Definitely sounds mysterious at first sight but it's no mystery at all that this Austin, Texas band is well on its way!   In the realm of Pop/Rock, Moving Castles is proud to announce the release of their debut EP 'Twin Daggers'.
The band is made up of four members: John Eric on lead vocals & guitar, Daniel Zane on vocals & guitar, Marshall Garrett Berry on vocals & guitar and Nick Cogdill being the odd one out on drums.   Obviously you have major emphasis here on the mixture of several voices and guitar parts.   Having three guys share the load of singing and jamming on the guitar surely makes for one power-packed performance.   And I have to say that John Eric really stepped up to plate as the frontman for Moving Castles and just killed it!
I equally enjoyed all five songs and I can truly appreciate what Moving Castles has come up with here.   From "Black Dress" to "Warhol" to "Hush My Bones", you will not be disappointed or bored at that matter.   The overall sound is catchy as hell where you'll hear a fun rock 'n' pop approach.   'Twin Daggers' does have that mainstream appeal but in a good way because there is no target audience in place and the recording is not poppy at all.   I welcome Moving Castles to enter the charts ASAP to weave out some of the garbage out there Today.
Moving Castles really makes it all work on the new EP where you will sense that the music & lyrics are     entertaining, cool and real all at once!   They play fast, the play hard and they play smart!   Engaging music that will exercise your mind & ears is what this Texas group is all about.     'Twin Daggers' is a terrific start and Moving Castles is a band to watch out for now.    
By Jimmy Rae (jrae@skopemag.com)
[Rating: 4.5/5]