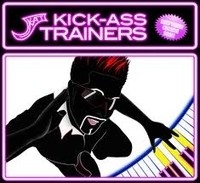 London energetic's Kick Ass Trainers do, instead of so many bands out there, justice to their name.
Probably you might heard that statement above so many times and later be dissapointed. Well, you can be 100% sure this would not be the case with this guys. With an catchy and so contagious sound that once inside your head, would be almost impossible to just listen only one time. You would be humming the tracks over and over again. So it's time to get ready, put your shoes on (or not) and start dancing like if nobody's watching, KAT would do the rest.
In conclusion, this guys ROCK! and may the Lord be with all those mainstream bands out there, because this lads have enough to talent to kick all their asses. If this is only a Demo, I am sooo waiting for the Full Length. The only con of this album is that only has four tracks and you keep wanting for much more. But yeah, this is what you need to do, go to http://www.kickasstrainers.com, listen their songs, buy the Demo and the rest, well, be ready.
By RJ Frometa rjfrometa@hotmail.com
[Rating: 5/5]