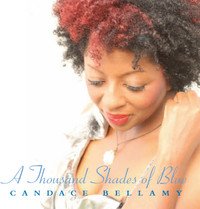 Candace Bellamy is an Austin based R&B singer that has been running in the same circles and collaborating with some of Austin's elite. She has proved with her debut CD, "A Thousand Shades of Blue", that those elitist were in good company.  
Candace has a voice that is an instrument all on its own. It has a crisp, clear and concise quality. She knows how to manipulate it to fit the mood of each song. The Title track, "A Thousand Shades of Blue", is not only an incredibly well written song, but it touches your soul. So rarely can a musician stupefy me to the point I am left speechless. This is the type of music you feel compelled to stop the world going on around you and demand every one to be quiet and pay attention; and it doesn't take much convincing, the music speaks for itself.
The production is a perfect music lesson in prosody. If you do not know what that means, listen to the CD and you will. There is an unimaginable brotherhood between Candace's voice and the music. It feels as if you cannot have one without the other.
The one complaint I have about this CD is that there are only six tracks on it. Someone with this magnitude of talent should be releasing 11 or 12 track albums. This one finished way too fast. My favorite song was, "Nobody's Watching but God". I appreciate the message and Candace Bellamy sings it with such conviction it is obvious she feels the same way I do. This woman has the ability to change the world with no other tools but her voice. Nice work!
Rebecca Hosking – hoskingrebecca@gmail.com
[Rating: 5/5]