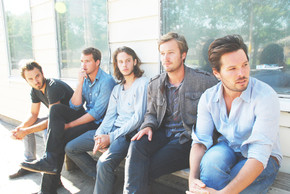 You already heard the song, now feast your eyes on the mesmerizing new video for "Late Nights," the first video in relation to Brown Shoe's recently released fourth LP The Gift Horse. With directorial credit going to the Baggaley brothers' cousin Brent Lasala, "Late Nights" takes an introspective dive into the band's subconscious, digging out surreal imagery mixed with sleepless nights that are the result of romance gone awry.
[vimeo 30876660 nolink]
Sometimes sexy – a few bodies rolling around in lingerie and underwear – sometimes strange – dudes in animal masks on public transportation – this new video sees each member of the band going through various unsettling occurrences while battling their own inner demons. Things do tend to get heavy for a bit, but take a turn for the better once the climactic, crescendo-driven ending reaches its conclusion, which sees the guys and their female counterparts breaking into a collective laughter… most of the guys, that is.
http://brownshoe1.bandcamp.com
Photo By: Arrica Rose