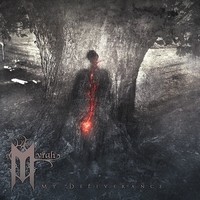 Swedish epic metal band Myrah brings us their EP My Deliverance which can be easily described as outstanding, brilliant and awesomeanic!
The Dark and amazing dark journey begins with the haunted and sick track "The Light Of A New Day", then there's the yet impressive track under the name of the record "My Deliverance", which follows the same haunting pianos and tremendously addictive guitar riffs that leaves you thirsty for more; and then, unfourtanely for us we found "Illusions", which ends the whole journey in such brilliant way with some screamo additions here and there. Usually I always say this type of music normally makes you stand up and dance, well, this would be different as you would be somehow hipnotized by the greatness of this record.
In conclusion, if you enjoy ol'-original-epic-metal music and bands, it would be a such idiotic thing to not check this guys out. So what are you waiting for? Go now to http://www.myrahband.com/, listen and get the albums, then be ready because your life is about to change!
By: RJ Frometa rjfrometa@hotmail.com
[Rating: 5/5]