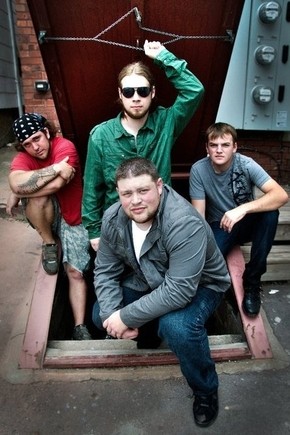 Jersey's own Downcast Theory is electrifying audiences with their high energy and ferocious sets.   If you're a fan of good heavy metal/hard rock music then you gotta take a listen to Downcast Theory.   These guys have had the pleasure of opening up for some pretty big acts such as: Drowning Pool, Cold, Nonpoint, Taking Back Sunday, Circa Survive and Powerman 5000.   With a new   record out and continuous live shows, Downcast Theory look to make some SERIOUS NOISE.  J Rae:   I know that your group Downcast Theory was formed in 2007 and so I'd like to ask how has the overall vision changed between then & now?
DT: The main difference from then to now is that in the beginning there wasn't a vision! We had no idea what the band would become, and even in the first 18-24 months we didn't really know what we wanted to accomplish. In the present we have defined goals regarding touring, releasing new music, the shows we play and when we play them, etc. The goal is to have a career playing music — all we can ask is that we be able to pay our bills and play the music that we love.
J Rae:   I see that your band consists of four members with bassist Ryan Sauerman being the newest addition.   How is it working with Ryan vs. your former bass player Kenny Earl?   And I have to ask why the change?
DT: Having Ryan come on board has been great for Downcast Theory in a variety of ways. He is an experienced songwriter, an enthusiastic performer, and a great friend. Kenny was certainly all of those things as well, but the musical chemistry didn't seem to be there anymore. It was not a reflection of his abilities or character — his writing and ours didn't work together anymore.
Ryan brings a fresh style to the group because he doesn't play like a traditional bassist. He wants his parts to stick out as much as any other part and we love that about his playing and writing. We have a much fuller sound now and its definitely taken our music to another level.
[youtube an7XZm7ReZg nolink]
J Rae: Downcast Theory is a NJ-based rock band with a big fan-base in the New York & New Jersey areas and so I'm very anxious to know just how these fans treat you guys and how they react?   Is DT looking to branch out into other spots and if so any specific locations in mind?  
DT: Our NJ/NY fans have been amazing! Our NJ fans, especially those that have been around since the beginning, really inspire us to step up our game — they don't want to see the same show or hear the same music over and over again; they want progression. Downcast Theory can't exist without a loyal fan base and that loyalty has been apparent since our first show.
The New York crowd developed once Ryan joined the band and have been incredibly supportive since seeing and hearing the band for the first time. We carved out a niche in NY quickly and have had some of our best shows in NY in the last year.
We would love to continue our expansion into more of the Northeast and get the name as far out there as possible.
J Rae:   I'm sure you guys have seen some pretty crazy stuff at your shows so care to tell the Skope readers about some of these wild times?   Any particular instances that stand out to you when it comes to the audience?
DT: We haven't seen too much craziness, surprisingly enough. We encourage the crowds to have fun and do their thing, but we're not a wild bunch of guys, so we don't often incite a lot of madness! Jake and Ryan have a tendency to jump into the crowd during a song or two, so there is a little bit of craziness in the bunch.
J Rae:   I have to ask since you guys are from Jersey what is your take on the show Jersey Shore?   Is the show sending out the wrong messages by making the entire state of New Jersey and its people look bad?   Or is it all just harmless entertainment that shouldn't be taken serious?   Maybe a little of both?   Obviously the Italian culture & persona is poorly represented by these Jersey schmucks and so I feel they are all just a complete disgrace.   Would you agree?
DT: Initially the show gave the impression that the cast members represented the Jersey lifestyle, but I think after a few seasons people have come to realize that just like the Real World and shows like that, these are outsiders thrown into our state to entertain the masses. They're not all Italian and most are not from New Jersey, so they don't necessarily represent what New Jersey and the Italian community is all about.
J Rae: What does your band name and logo "The Downward Spiral Has Begun" all mean?   Where did it all originate from?
DT: It all originated from nothing, to be honest. A band name is really defined by who is in the band. That tag line was associated specifically with "Damaged Calm", our previous record, but since then we have not used that line for anything. We are a different band than we were then…a lot has changed.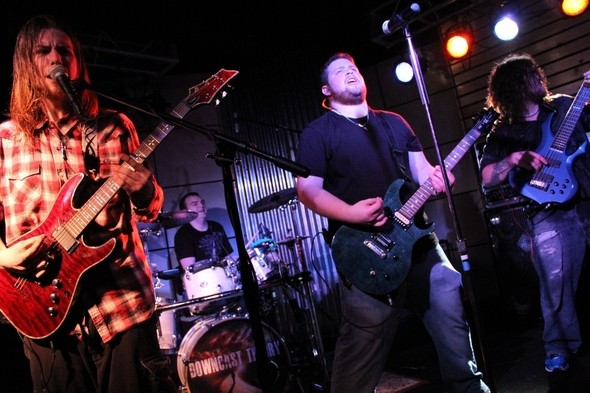 J Rae:   When you guys aren't playin' music what are you doin' for fun?   Any interesting hobbies?
DT: Ryan is a fitness freak; Jake is into video games. We're all into sports and hanging around playing games. Matt Simon manages a music facility, so he never strays from music. Matt Raunick is a volunteer firefighter. We are all very busy!
J Rae: I saw that Downcast Theory has opened for some pretty big acts such as: Drowning Pool, Cold, Nonpoint, Taking Back Sunday, Circa Survive and Powerman 5000.   I really like Powerman 5000 myself but wondering who was your favorite from a musical & personal level ?
DT: Musically, Drowning Pool and Nonpoint were killer. Both just dominated the crowd beginning to end…great music, great performance. We met a few of the guys along the way, but the singer from Circa Survive and guitarist from Drowning Pool were great guys. We had a chance to have some real conversations with them and they are down to Earth, relaxed guys who were enjoying themselves as much as we were.
J Rae:   So Downcast Theory is primarily a hard rock/heavy metal band and so I'm wondering who your major influences are then?   What other styles of music are you guys into and would you ever incorporate these elements into your own music?
DT:   Without getting specific as to which member likes whom, some influences are Alter Bridge, Shinedown, Metallica, older Seether material, Opeth. We all have differing tastes, so we bring a lot of concepts and styles to our songwriting. As far as incorporating elements outside of hard rock/heavy metal, we're not afraid to do whatever we want when writing a song. There will always be people who love and hate what you do, so you might as well write what you want to write, and hopefully the response is overwhelmingly positive!
J Rae: So you have a new album out that I had the pleasure of doing a Review + on (http://skopemag.com/2011/05/31/downcast-theory-self-titled ) and I'm sure the Skope Universe would love to hear more about this new release?   What are you doing to help promote your latest installment?   How is this record different from your 2009 debut album 'Damaged Calm' which I also reviewed for Skope (http://skopemag.com/2009/10/28/downcast-theory-damaged-calm)?
DT: The new album was recorded at Architekt Music in Butler, NJ over the course of this past winter and their studio is amazing. We had a great experience there and we'll definitely go back when its time to record again. This album is more focused, lyrically and musically, and we think that shows when you listen to the whole album. It is an ALBUM, not just a collection of songs randomly written and placed. Unlike 'Damaged Calm', which was written in a matter of 10-12 months, the new album has some material that, at this point, is over two years old. The new album was self-produced, and we spent a long time tweaking each and every song that made it on the CD. The main difference is that writing and recording this album was a serious process whereas 'Damaged Calm' was put together a lot faster with less thought put into it.
J Rae:   So what's on the horizon for Downcast Theory?   Anything in the works right now that you can speak of?
DT: We are continuing to play live as much as we can as well as reaching out to radio stations in the area. We love the music on this new album and we want to be able to share it with as many people as possible. The fall and winter schedules will start taking shape really soon and it will hopefully be a busy time for us!
Downcast Theory is on the rise folks so ready or not the "The Downward Spiral has Begun"!   If you would like to purchase their music then check out iTunes: http://itunes.apple.com/us/artist/downcast-theory/id268914755.   If you prefer the CD version like myself then you can contact Matt Simon directly at: downcasttheory@yahoo.com and he'll get you all taken care of.   Downcast Theory is also selling some very cool T-shirts so hit up Matt if you're interested in something like that as well.   You can find out more about these hard-rockin' Jersey Boys right on their main website:
http://www.downcasttheory.com/fr_dt.cfm.   ENJOY!
By Jimmy Rae (jrae@skopemag.com)