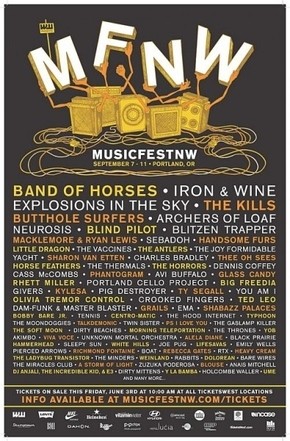 Being from Austin Texas, a city who plays host to over 10 huge music festivals each year, I didn't know what to expect my first year here in the Northwest. Portland's largest music festival, MusicfestNW, has come and gone, and I am pleasantly surprised.   Supposedly, the third largest indoor music festival in the country, just behind SXSW and CMJ, this year's festival brought the heat as a heat wave billowed through the city, under wild fire warning.   With a focus on local bands, Portland has a much better approach in comparison to Austin, and a much better local music scene. The quality here is just overwhelming, Y La Bamba, Typhoon, Dirty Mittens, And And And, Sean Flinn and the Royal We, Horse Feathers, Viva Voce, Talkdemonic, The Thermals, Blind Pilot, Wild Ones, Dolorean, And, Sallie Ford and the Outside Sound to name a few of the standouts locals.
The 3 Headliners were showcased at the lovely Pioneer Courthouse Square, this year featuring Iron and Wine, Explosions in the Sky, and Band of Horses. The remainder of this five day music surge, is mapped out over twenty venues across Portland, much like a small SXSW. I placed my focus on the touring acts. Some of my highlights were The Kills, were the kick off act, preforming at the jaw dropping and quite steamy, Crystal Ballroom. The duo of Jamie Hince and Alison Mosshart, managed to fill a huge stage with just two bodies and a whole slew of energy. With only a few guitars, a floor tom, some vocals and a whole lot of sex, this steamy performance had me sweat coming out of every pore.
Ume, an Austin based rock trio with power enthusiasm, started off my second day, at my favorite venue in Portlandia, Mississippi Studios. My reunion with Ume was just as remember them. Front woman Lauren Larson's speaking voice is rich and smooth like whipping cream. Her singing voice, souring above the sticky crowd, is spacious, articulate, and laced with barbed wire and lots of ammunition, this lady packs a punch. Larson is a delicate blonde tornado, and its impossible to take your eyes off of her. Twin Sister ended my second night with their dreamy pop tunes. Another female fronted act, wait a minute, I'm beginning to see a theme in my choices here… This duo had Holocene mesmerized. Starting their set with the breathtaking "Lady Daydream," the band had transformed me immediately into a small lounge in France, the lyrics aren't even in French. The band played almost every hit from their new record, what a killer way to end the night.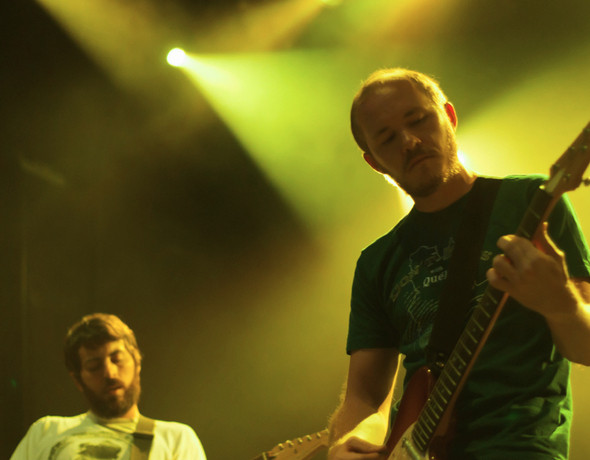 Photo: Explosions In The Sky
As day three approached, I had learned my lessons about venue switching, and line waiting. Is it worth a shot? Why not!!! I started off night 3 at Star Theater with a nerdy Seattle band called Boat. What I like most about Boat, is they are real. They are just in your face and the opposite of too cool for school. In fact, these guys probably really dig learning. Killer pop music from the guys of Boat. I caught just a bit of the lovely Sharon Von Etten, but had to rush across town to wait in a line for locals, Horse Feather, a folk-pop string quartet. These guys are local, but rarely play here in Portland. I am all for touring, but I wasn't going to miss a chance to see these guys. Leader of the pack, Justin Ringle, occupies a gentle and faint energy, which can make any setting feel super intimate. Catherine Odell's cello skills are quite notable as well. Such a great show, these guys tucked me in a warm bed before I was even in one.
Night four started out with headliners, Explosion In the Sky, epic as always. Followed by local Kelli Schaefer, and incredible talent that will soon be blowing up, you can mark my words. She's unlike anything I've heard from the abundance of female talent we've got these days. Her passion for words and sounds are so raw and vulnerable, and that is more than apparent in her performance. Avi Buffalo, is the aircraft through which four youngin's from Long Beach California channel their musical powers, and that they did. The last performance of the night showcased their fancy guitar parts and killer vocal harmonies. Innocent and a tad tense between songs, Zahner-Isenberg converts into a tight songmaking maching when performing, which gave the songs a bigger punch live than on record. Mmm mmm good.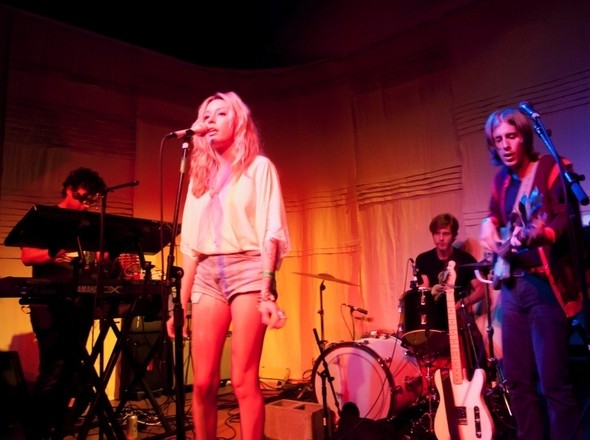 Photo: Twin Sister
On the last day of the festival, I decided to skip out on the scarce line up and hit up a raging "Unofficial" all day party my good friends at Marmoset Music were hosting at Rontom's on Burnside. It was well worth it, dollar beers, happy hour menu and prices all day as well we 14 bands rotating on two outdoor stages throughout the day.   Some of the acts included, Great Wilderness, Greenhorse, Light for Fire, Pancake Breakfast, Dolorean and Tu Fawning. The show lasted till midnight and pooped everyone out. This was a great way to end my first solid year at the MusicFestNW!
Gin Hebert – meowpoww@gmail.com