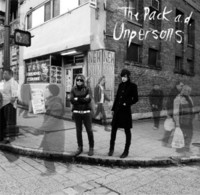 After their previous three full-lengths, the Pack A.D. have gotten serious. It's evident from the smooth blend of steel and coy romance on "Sirens," the lead track on Unpersons. The Vancouver guitar and drums duo has always sounded rather relentless, both live and on record. But on "Sirens," and the rest of Unpersons their sound has evolved beyond the destitute, all-or-nothing rock they've been known for.
It would be easy to credit this focused energy to heavyweight garage-punk producer Jim Diamond (The White Stripes, Detroit Cobras) or perhaps a sense of emotional maturity within the band. Yet there are darker forces at work here; whereas past efforts have been the soundtrack to many a good time, tracks like "Rid of Me" and "Seasick" see the band becoming comfortable with the gloomier shades of their psyche. It's not pretty, but it's effective. There are hints of scuzz, including on "Positronic," but the band is largely dealing with the kind of lurking groove that only a few of their peers have mastered.
To top all this off, this expanded groove sounds wholly natural. Diamond adds his expert touches where necessary. Yet this songwriting duo is coming into their own. And they're clearly not afraid with what is coming down the pipe.
By: Joshua Kloke – joshuakloke@hotmail.com
[Rating: 4/5]