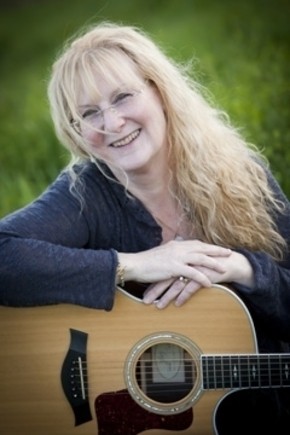 Perry-Desmond Davies considers her style of contemporary acoustic music an honest reflection of her own life experiences.    She started performing in her teens in New England coffeehouses and then gave it up for a career.Once returning to her true love, music,  she  released her first CD, "This One's for You", a live performance.   Her latest release, "Sweet Ride" has been called an addictive mix of folk, blues, bluegrass and even a Capella.  Her beautiful clear voice enhances all the genres she loves.      
 
Who were your early influences?
 
Phoebe Snow was probably my most important influence as a young person: she was so different from everyone else in both her incredible songwriting abilities and her three-octave range.
What do you want your music to say to listeners?
 
I often jokingly refer to my music as "Boomer-Folk", because it's about life stories and situations that the baby-boomer generation can most relate to: love, loss, parenthood, even serious health issues, but always real-life situations that hit home with listeners. People frequently come up to me after a performance to say how much a particular song has affected them.
Buy: http://www.cdbaby.com/cd/perrydesmonddavies2
Tell me about your CD and any plans for more?
"Sweet Ride" was a real labor of love. I wanted this CD to illustrate several styles of music in order to showcase both my voice and writing, and we definitely achieved that, with blues, pop, folk, country a capella, bluegrass and light rock all represented. The title track has received tons of airplay all over the US and the UK, and was featured on NPR Car Talk's Christmas program last December, fulfilling the goal in mind when I wrote that song, such a thrill!
[youtube RVnfBYilcfU nolink]
The two cover tunes on the CD are favorites that I had wanted to record for a long time: Karla Bonoff's "Lose Again" on piano, and a low-and-slow version of "One Way Out", which was made famous by the Allman Brothers but was actually written in the 1940's by Sonny Boy Williamson.   Yes, there's another recording in the works…one of the hardest things about creating a CD is that there's always a new song or two that pops up just as you're wrapping it up! The plan for the next project is to record each new tune individually as it's completed, so it's a more relaxed approach than heading in to the studio full-on for a big chunk of time. It's a goal, but there's no big deadline to finish. Right now the focus is still on getting the word out about Sweet Ride, because it's so fun to be out there singing these songs!
What would you like to be doing 5 years from now?
My greatest joy is the amazing feedback I get from listeners who see themselves in my songs, so the ultimate would be to spend more time touring and sharing the music! That's not so easy to accomplish with real-life intervening, so I'm also working hard to get to that goal virtually through more airplay and online presence to reach new listeners on every continent.
http://www.perrydesmond-davies.com
By: Diana Olson – diolson05@yahoo.com