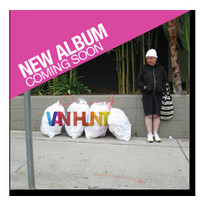 Van Hunt has an impressive resume and his latest release, "What were you hoping for" does not disappoint. He has worked with people like Randy Jackson, Dionne Farris, Lenny Kravitz and many more.   It is clear he knows what he is doing and our job is to sit back and enjoy the ride.
It starts off with a driving beat and intoxicating drums. Ok, he has my attention; and it is not hard to find some Lenny Kravitz influences in his vibin' grooves. The music is funky, edgy, rocking, with a blend and style equal to some musical greats. From screaming guitars to addictive beats he drives it home with finesse.
Van has a sound surpassed by very few musicians. It is gritty when the mood calls for it and suave when he wants to turn on the charm. The song, "Moving Targets" is a perfectly centered bull's eye. On this song he hits a mixture of high and low notes reminding me of Prince. He can manipulate his vocals like an artist working clay on a potter's wheel.
If you are looking for a mellow experience then keep looking. This guy is here to wake you up and get you dancing. I can feel it bounce from the speakers to the depths of my chest. He's got my blood pumping and my feet tapping.
Van Hunt's new release, "What were you hoping for" is worthy of unlimited accolades. He is an artist at a point in his career where he is setting the standards and paving the way for our future hipsters.
[Rating: 5/5]
By: Rebecca Hosking – hoskingrebecca@gmail.com