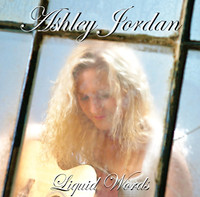 Harvard's own Ashley Jordan is coming on the scene with her new release scheduled to be in stores October 3, 2011. "Liquid Words" is a 14 track CD displaying Jordan's unwavering talent.
In the words of Ashley, she is pretty in pink but tough as hell and definitely can hold her own when it comes to playing music. She has a pure, sweet sound without falling into the cutesy trap. Her vocals are precise and articulate. It feels well thought out and planned. Jordan has perfected simplicity with a straight forward no frills sound; a gentle mix of country and folk that seems to have been created for her songs only.  
I personally would like to hear a little less production. I felt at times it smothered her story telling and I got lost in the music. I had to listen closer to know what the songs were about. Do not get me wrong, great production, but some times less is more. With a voice like hers let her do what she does best, simply sing.
There is a song called, "Don't mess with a songwriter". As a songwriter myself I'm feeling this song the most. It is very well written. You have to hear it for yourself. So mark your calendars for the release date.
She has these precious vocals, delightful harmonies, great story telling all wrapped in a nice neat package. Ashley Jordan is making a name for herself. I suggest to any aspiring songwriter out there; Listen to this CD and study it. It is full of great content.
[Rating: 3.5/5]
Rebecca Hosking – hoskingrebecca@gmail.com