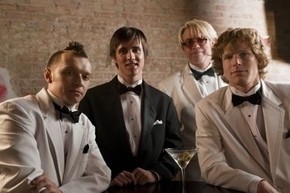 At the mere age of four, Spencer Linsley got his first guitar and with the help of his musical father Brian, he continued on learning to play guitar, piano and taught how to read and write songs and lay down tracks.In 2009, along with lifetime friends, JT Nebeker on bass, Skip Hardy on drums and his father Brian on guitar, his band Junior Giant released their first album "Blue Boy" and in 2010 the second album "Truth North".
 
Spencer says his music is a blend of indie rock and alternative music.  Growing up Utah it was a natural to become a skier.   Spencer took it to world class competing in the US Open and X Games and also becoming a licensed EMT and certified to handle explosives in avalanche control.   Despite all this other talent, Spencer is concentrating on and 'exploding' onto the music scene.
 
Tell me about your early family musical influence and how you got started?
 
At a very young age my father instilled in me a passion for music and performance. I got my first guitar at age 3 and loved playing along with my favorite songs. Throughout my youth I studied piano and music theory and also played violin briefly and sung in choir. The big change for me came when I got my an acoustic guitar on my 16th birthday, this is when I started writing my own music.
You were a pro skier…..how do you think that influenced your music?
 
I think my skiing career influenced and influences still my music in several ways. The nature and outdoors have always given me inspiration for songwriting but the biggest influence was that of live performance. In skiing competition I learned how to perform under pressure and in harsh environments. It was essential to be able to focus on what I had learned in training while remaining calm and clear headed.  
[youtube _BTHR1gRHIE nolink]
How would you classify your music?
 
Definitely rock and roll driven music. We have a lot of rock and roll influences so that plays heavily into our style. It is has always been a difficult question for us though especially because we have so many different influences that play into our music.  
Tell me about your cds or any projects in the works?
 
We have independently released two cds previously, Blue Boy and True North. Both are available on iTunes. Currently we are working on putting together an EP with producer Warren Huart at Swinghouse Studios in LA. We have finished one track already and will be returning to complete the rest this fall.
What do you want people to get from your music?
 
We make a lot of upbeat feel-good music and we want people to experience just that. We want people to be able to relate to the good vibes we are putting out and to have fun listening.  
What would you like to be doing 5 years from now?
 
We hope to be continuing to do what we love, which is making music non-stop. Whether it be recording or reaching out to new audiences and touring, we would love to be doing it all and progressing as musicians and people all along the way.
http://juniorgiant.com