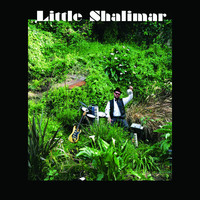 Little Shalimar aka Torbitt Schwartz has quite an interesting background which is probably why his music is so unique. He is half Lebanese and half Jewish and seems to be oozing with creativity.
He is a multi-instrumentalist, producer, artist, DJ and performer; the list goes on and on. He has played with musical elites like Elvis Costello and formed his own band Chin Chin in 2000.   While bed ridden and suffering a severe case of Pneumonia, Little Shalimar was creating "The New Pneumonia Blues" CD and his debut solo album was born.
I listened to the first track "Lady" and I was sold. It took less than a second before I was out of my chair dancing and flailing my arms. I want to party with this guy. From his music it seems like he definitely knows how to throw one. Little Shalimar has successfully taken his jazz influences and created a genre all his own. The first track stands out above the rest and is the anchor that keeps you planted. It is quite an eclectic array of songs with a sense of humor feeding a stream of smiles as you move from one track to another.    
Given the background in which this CD was created I have the upmost respect for the man who refused to let illness take him down. He utilized his bed time and created a masterpiece. There are little short snippets of coma induced trances coming through his music. They cleverly put you inside his head as he reveals his deepest emotions. I'm feelin' ya Shalimar and I'm hooked!
Pneumonia never sounded so good. He could have very well opened up a gateway to a new dimension with this one, never mind my dancing; just listen and I'll meet you on the other side.
"Big bedrooms, lots of closets, all I want is a place to crash!" It's an inside joke, if you want to be a part of it you have to get Little Shalimar's new CD. ENJOY!
By: Rebecca Hosking – hoskingrebecca@gmail.com
[Rating: 5/5]