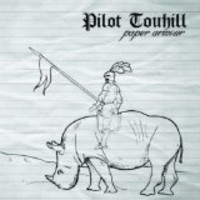 With his original bend of Alt Rock-meets Reggae-meets a touch of electronica, Pilot Touhill is eschewing the pigeonholing that seems to run rampant through the solo singer/songwriter genre. Combining vast instrumentation (much electronic) with thinking man's lyrical matter, Touhill strikes me as the soulful foil to the mock-Reggae acoustic ethos of the Jack Johnson types. His latest 14-track LP, Paper Armour runs the musical gamut incorporating a myriad of musical influences and genre nuances. If the album had a focus it would seem to be "eclectic." The album flow feels natural and deliberate from track to track, allowing each song to stand on its own merit, while still fit nicely in the collective of the album as a whole.
The album opens to "Vessel", blending Reggae instrumentation and tempo with an electronically supplied, almost Hip Hop drumbeat. The vocal delivery and accompanying lyrics are also dub Reggae-laced and stands up to the multiple soundscapes of backing instrumentation. "Kaleidoscope" opens to a church organ melody before giving to another Hip Hop beat and rapped verses of equally clever lyrics and rhyme scheme. The combination of organ, drumbeat and generated handclaps bolstering the lyrics make this arguably the catchiest/most fun song on the album. "Wasteland" brings a groove R&B/Soul melody to another toe-tapping beat and melds it with socially conscious lyrics the likes of Matisyahu, Sage Francis or Citizen Cope. If "Kaleidoscope" represents the light-hearted side of the album, this would be the antithesis. Blues riff acoustic lays the foundation for "Sink Or Swim" before giving to reggae strums, feel-good lyrics and minimal hand percussion. The track is another example of Touhill's ability to wax and wane between emotive and ethereal within the ethos of the album. Title track "Paper Armour" rounds out the album with opening chant work, simple acoustic riffs and backing beat. The track takes off and soars with an opening verse of more deep lyrical matter in an urgent vocal delivery. Electronica dominates the closing track "Cooler Than Elvis" from the opening clicks and clanks to the effects-laden vocals. Random sound effects and staccato beats make intermittent appearances with no discernable live instrumentation to be found. It is the most far-removed song from the rest on the album but still welcome in the fold.
I can't really say anyone else out there is doing what Pilot Touhill is doing within the bounds of their music. It seems his approach is "nothing is off limits" and the overall feel of the album is very DIY and raw. The places the tracks lack polish seem to be deliberate and in earnest and actually add to the flow and feel of that particular tune. This one stands out within the singer/songwriter genre for sure and should be especially welcome to those who want diversity and randomness within the scope of an album.                        
by Chris West
[Rating: 4/5]