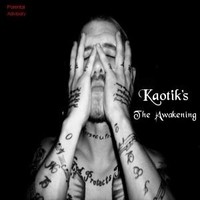 Get ready for a rapper who goes outside-the-box on the his new album 'The Awakening'.   Kaotik is his name and he lays down 16 tracks that are original & very inventive to say the least.   Kaotik isn't your ordinary rap artist of TODAY by no means so prepare yourself for something fresh & new.
This cat is only 27 years young and he already has 3 albums, 7 mixtapes and 12 years of experience under his belt.   Kaotik was also named 'One of the Best Underground Artists of 2006′ by hiphoplinguistics.com.   This guy even had his track "Early In The Mornin'" in DMX's film "Lords of the Street" for cryin' out loud!   Early success for sure for Kaotik but much more to come I bet!
What I liked most about this new record were the hot beats that were just slammin' all the way through!   Also, I could sense that Kaotik was getting' real deep & personal here based on his lyrics.   Kaotik was spillin' life lessons and even threw in religious references at times.   'The Awakening' was a very interesting listening experience to say the least.   The record even features guest appearances from Valley & Steelbillyosis.
"Mad Luv" MP3:
On track two "Give 'Em Hell" feat. Valley, that is exactly what Kaotik & Valley are doin' here by delivering a crazy beat & nice flow.   You get unique-sounding classical accompaniment to back up Kaotik on "King's Return".   I did notice that the piano played a key role on several tracks serving as the smooth background noise.   Clap your hands everybody on "Still Ballin'" and uh-oh Kaotik's goin' bananas on track 11 "Feel'n Numb" feat. Valley.   Rolling up in style on "Hated" where you will definitely not be hatin' this club-worthy track.   I have to say that I picked up on a southern rap influence similar to that of T.I. perhaps.   There's a long list of BIG rap acts that Kaotik looks up to for inspiration   and here are some notable mentions: 2Pac, Bone Thugs-n-Harmony, Notorious B.I.G. and DMX.  
I have to admit that I wasn't crazy about Kaotik's rappin' style but I do hear talent, skills & potential just waiting to burst out!   Honestly I would love to hear some of Kaotik's older material this way I could compare it to his new project.   Kaotik's approach at the mic was more of a rap-talk style that I wasn't really on board with.   I do have to say though that I'm very curious to keep tabs on this rapper Kaotik because I do feel there is a lot there that I have yet to discover.  
You can find out more at www.iAmKaotik.com and also at:
http://www.facebook.com/people/Stephen-Pippin/1016482302
http://twitter.com/#!/KAOTIKMUSIC
http://www.myspace.com/KAOTIK4LIFE
http://www.youtube.com/187kaotik
And stay tuned because Kaotik is possibly shooting a video for "Mad Luv" which happens to be the latest and final installment added to the album.   You can hear "Mad Luv" for yourself right here in this Review + so enjoy!   Watch out as this musician goes all Kaotik on your ass with his new release 'The Awakening' that will definitely get your attention!
By Jimmy Rae + (jrae@skopemag.com)
[Rating: 3/5]