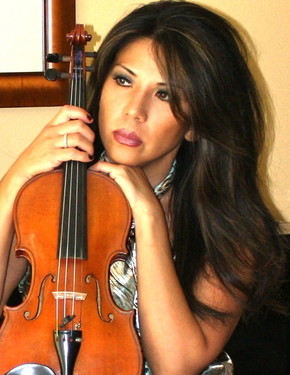 Christy's vision is to create an "alternative classical" sound that conveys distinct and intense moods and emotions, which is ideal for visual media such as film and television. Christy achieves this feeling by combining her training in classical violin and piano, her live rock performance background and her love of the classical and rock music genres. Currently, she is submitting works to all types of visual media, including a variety of television segments and programs, films and other international video projects. Christy is also focusing on releasing a compilation of solo works and collaborations by the end of 2011 or early 2012.
Who were your early musical influences?
My early musical influences were classical composers, as well as rock and alternative rock musicians. I started playing classical music as a child and that is all I was exposed to in the early years. My favorite composers were Vivaldi, Bach, Mozart and Handel. As an adolescent and young adult, I gained some insight into the rock genre and idolized bands like Rush. Their music is very intricate and intellectual.   Other favorites included the dramatics of Pink Floyd and the classics of Led Zeppelin. Rock music became an obsession in just about any form, from heavy to classic to alternative. When Nine Inch Nails evolved, I was enamored with Trent Reznor's sound. My main instruments at that time were keyboards/synthesizers and piano. All in all, you could say the realm of my musical interests and influences are extremely diverse.  
When and how did you make the transition from classical to playing in rock venues and then alternative classical composing?
My mother was the driving force behind my classical training on the violin and piano. It was a common "hobby" in the Asian upbringing. I started lessons at age seven. I don't think I was thrilled with it at the time, but I am very grateful to my mother now. I played with the Houston Youth Symphony for approximately 3 years beginning at age 9. Sometime in the fourth grade, I remember hearing about this really popular band who wore makeup and costumes. One day, I heard their song, "New York Groove," and asked my mom if I could get the album.   My mother reluctantly agreed, but I remember us driving home grooving to the song, "I'm back, back in the New York Groove…I'm back, back in the New York Groove…I'm back, back in the New York Groove…Back in the New York Groove….the New York Groove!" The band was Kiss, of course. I guess that was my first real introduction to rock music.  
I bought my first set of Korg keyboards in my junior year of High School and played with two friends of mine in a garage-type band. We started with Rush's "Jacob's Ladder" and, after many hours of throwing drum sticks, guitar pics, amplifiers and the like at each other, we finally got it. It was definitely a challenge, especially the ending of the piece with all of the famous Rush off beats. After high school, I played in rock and alternative rock bands that played in most every venue in the Houston area. My folks did not know at the time, because it was a "bad" topic. I knew there would be intense "discussions," so I avoided any mention of it.   As time has passed and I have gotten older, I have grown to enjoy and deeply appreciate my classical roots. I find so much beauty and wonder in it now. I have tried to combine those classical roots along with alternative rock in my music, and seem to have come upon an "alternative classical" feel. Some pieces are more traditional classical and others are a more heavy, alternative synthesized sound. I often use the alternative "voice" of the violin in most pieces. It depends on my mood or the mood I am trying to convey.
What is unique about your music?
I believe the combination of the acoustic violin and alternative rock style is what makes it a bit different. I am not saying this is a new combination, but it is certainly not mainstream. I use my violin as a voice at times. It is a much better choice than my own!
What do you want listeners to get from your songs?
I want listeners to be moved and to see a visual in each piece, like a scene in a movie. The visual will sometimes be relaxing, and other times it will be intense, angry, happy, futuristic, etc. I just want it to evoke a very deep, dramatic emotion for a listener.
Tell me about upcoming projects and cds?
I am working toward a cd release date in late 2011 or early 2012. It will consist of a compilation of my works, and may include collaborations with other artists.   I use keyboards in addition to the piano and violin to compose and perform my music, but I always prefer the real instrument, whether it is the guitar, bass, drums, bongos, etc. Therefore, I do what I can to find and collaborate with the right artists to give my music a fuller, more authentic sound. Collaboration can be a tough process, but in the end it is very much worth it. Of course, if it is not possible to find the right person, I will just use my piano, violin and keys to do the best I can to produce what is in my mind and heart.
An example of a recent collaboration is a project I did with James Evans, a fellow artist on ReverbNation who has been featured on Skope Magazine. James agreed to collaborate with me on my original song "Sugar Blues." We just completed the song and I am very happy with the end result. He is a Godsend on so many levels and made such a difference with his guitar and production expertise. "Sugar Blues" will be released prior to the cd, and may remain a single. I am also working with some Houston area artists on several of my other songs for the cd, including drummer Josh Diaz and drummer/guitarist Giovanni Silva. Other collaborators will be announced upon release of the cd.
LINKS
www.reverbnation.com/christycraig
www.independentmediapros.com/profile/christycraig
By: Diana Olson – diolson05@yahoo.com