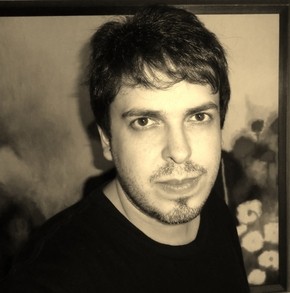 A wonderful thing about working here at Skope is even though I do not get to travel much, I still get to meet musicians from all over the world. So in that regard, it's kind of like traveling without being groped by TSA. My guest today has only one word that can best describe him, talented. Lucio Rebello is a Brazilian-born multi-instrumentalist that has a one-man band called Virtual Jungle. I actually saw his video on Youtube "Cycles" and knew I had to have him on. His new album 'Cycles' is out now and I do not think he has got one negative review. He also went to school in Boston at Berklee and studied film scoring. Join us as Virtual Jungle speaks on growing up in Brzail, what a Virtual Jungle is, his brand of guitar, and much more!
Stoli: Where are we talking from today and how is your summer going?
Virtual Jungle: I'm in Florianopolis, south of Brazil. Things are good. I'm working in a film score for an animation feature film. This will be my priority till' the end of 2011. It's actually chilly in here, as we're in winter – much nicer then NYC's, though!
Stoli: You are a one man band. Why did you decide to go solo and not have a backup band?
Virtual Jungle: While living in Boston, I auditioned and rehearsed with several musicians, all very talented guys. But they had too many projects going on at the same time. I found it impossible to develop a real band identity, working like that. So I decided to do it myself, since I could play all the instruments I was writing for. Eventually I realized that this could be a plus, and display my vision in a more personal way then with a regular band, or just session musicians. When I play live, though, I have a killer band: Mauricio Zottarelli on drums, Trifon Dmitrov on bass and Rubens Salles on keys, and myself on guitar/vocals.
[youtube xW_r1qkVXYk nolink]
Stoli: What does the name Virtual Jungle mean to you & your music?
Virtual Jungle: I'm fascinated with the way we interact with technology. It's changing the way we live and make music — for better and worse. There's a futuristic side to my music – the "virtual" side, with the occasional electronica beats, crazy synths and all, but also a primal foundation – the "jungle" side, which comes from rock and the Brazilian rhythms. The name implies that duality.
Stoli: How did growing up in Brazil introduce you to music to the point where you wanted to make a career of this?
Virtual Jungle: Music is a very strong aspect of Brazilian culture. My parents were amateur musicians at one point. Though they didn't play at home anymore when I was a kid, music was still very important to them. They had a very eclectic record collection and that music made a strong impression on me. So I started studying classical guitar when I was 8 years old. It was only after I played with a few local rock bands and in front of bigger crowds, though, that I decided that I wanted to try to do this for a living. This was probably around 1995.
Stoli: You graduated from Berklee College in Boston. How did attending that amazing school help elevate you as a musician and what was your main course of study?
Virtual Jungle: It helped me better understand some of the things I gravitated to, while composing. And it gave me the creative tools to keep developing my own style. When you have those tools at your disposal, you become more productive, and are also able to keep expanding your horizon, by self-study. I was a double major in film scoring and (classical) composition, though I settled just for film scoring at the end. It was a very through, and yet, open-minded music education.
Stoli: I love your song, "Right From Wrong." What is that song about and when did you write it?
Virtual Jungle: Thanks! It's just a commentary on the crazy world we live in these days. The stuff you see, particularly online and on TV, sometimes makes you wonder if people have lost it completely. There's almost no sense left of what's right or wrong. Also, our planet is sending very clear signs that we better change our ways now, or we might regret it forever. So it's about taking charge of our future, by learning from our past mistakes. I wrote the song while vacationing in Brazil, during the summer of 2009.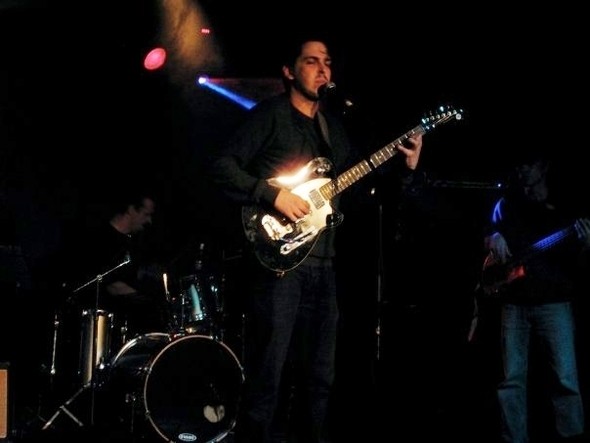 Stoli: You now live in NYC. How does being in a major city help you get your music out and what venues do you play live?
Virtual Jungle: I haven't played a concert in a long time (since November 08′). From 05′ till' 08′, I played in most cool rock venues in the city, such as CBGB's (shortly before it closed), Sin-e (closed too – do you see a Manhattan pattern here?), Don Hill's, Knitting Factory, Sullivan Hall, Rockwood. That was when I was promoting Virtual Jungle's self-titled debut.
From then on, I focused on recording and releasing its follow-up, "Cycles", which took me almost 2 years. The plan was to go back to performing right after its release. But then this movie offer came along. I had wanted to go back to film scoring for a number of years, so I jumped on it. NYC is great, but incredibly tough. You might get the first gig based on your music, but unless you really start bringing a lot of people to your concerts, it won't fly. And to bring people in, you or your label have to spend some good money on promotion and/or know the right people. Labels don't develop acts these days, or take chances on true new music. They want the complete package, ready to go. Junk-food music. So you have all this boring acts that sound like each other, or worse, like a bad 80's imitation! The great musicians are usually backing these nobodies for small dough. These sidemen cats, ironically, usually are the ones who have amazing original music, but it rarely gets exposure.
Stoli: You released the album 'Cycles' in 2010. The album got great reviews, how did it feel when the incredible reviews came pouring in?
Virtual Jungle: It felt great, but deceptive, in a way. They were so nice, that I thought I was on brink of something, like big labels/management firms offers…Not exactly. Only through constant touring and with a strong following you'd get that. It takes time, and a strong support system. Unless you get very lucky, of course, by having the right person attend one of your concerts or read the magazine, which wasn't my case. The reviews helped me land some nice gigs, though. And it always feels nice when people "get it", you know?
Stoli: You are amazing on the guitar. When did you learn to play and what is your brand of choice?
Virtual Jungle: Thanks, I appreciate that. I started learning the electric guitar by myself when I was 12. I played initially with classical technique (finger style), which I had studied, instead that with a pick. I've had a few teachers for very short periods before attending Berklee, but learned it mostly by watching instructional videos. I don't favor a particular brand. Through the years I've played Parkers, Peavey Limited ST USA, G&L and other custom instruments like Rahbek. I'm intrigued by the Line 6 Tyler Variax, though.   It looks like a revolutionary instrument, capable of many sounds, acoustic and electric! I have to try that one out.
Stoli: You obviously love music but what other interests/hobbies do you enjoy?
Virtual Jungle: I'm a movie buff. I also enjoy reading and playing tennis. Now that I'm back in Brazil for a few months, with the warmer weather, I might go back to surfing as well, which I haven't done in quite a few years.
Stoli: Do you miss your family & friends in Brazil and do you ever get back to visit?
Virtual Jungle: Yeah, I miss them a lot. I usually visit them once a year, for a month, during Brazilian summer. It's been different this year, though, with my work in the film score. It feels nice to be in Brazil for a longer stretch.
Stoli: What is coming up for Virtual Jungle and where you at online?
Virtual Jungle: I'll start recording a new album later this year. It will be more electronica/house-ish, 50% tunes with vocals, 50% instrumental. I'm also hoping to play a few concerts as a guest, with a few Dj friends. It will be a live vocal/textural guitar over their set – kind of thing.
You can buy or download Virtual Jungle's music at www.cdbaby.com/Artist/VirtualJungle and visit my website at www.virtualjunglemusic.com. You can also add me at www.facebook.com/virtualjungle or twitter.com/#!/VirtualJungle.