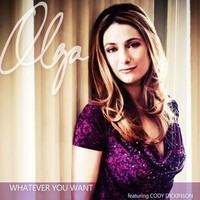 With her dark and sultry voice leading the way, Olga Wilhelmine Munding is continuing her journey through music on her fourth album, Whatever You Want. Written with North Mississippi Allstars drummer Cody Dickinson, the album is far-removed from her trademark blues offerings, instead laid in pop rock fashion with nuanced blues lurking just beneath the song surface. Ever the multi-instrumentalist, Dickinson supplies the bulk of the musicality but without a doubt this is a vocally driven album and Olga may just be the heir apparent to pop rock pipes the likes of Stevie Nicks, Melissa Etheridge and Bonnie Raitt.
The album opens with title track "Whatever You Want", rife with pop sensibility and melody bolstering the first taste of Olga's unique vocal delivery. With backing synth, intermittent electric guitar riffs and Dickinson shining on drums, the song structure casts the vocals at the foreground. Clear foreshadowing for what the album holds. "Little Is Known" opens to jangle guitar that could have been ripped straight from a Men At Work tune. Though redundant to say, again Olga's vocals command the foreground of this track. The electric riff work lays a foundation melody that carries the lyrical delivery, which is clear representation of Olga's vocal prowess. "It is What it is" (this writer's fave) switches from the pop ethos of the album to a torchy, down-tempo lounge tune. Opening to backing keys, Olga channels Amy Winehouse in a vamp style vocal delivery. This track not only shows just how sultry her voice can be but; shows a versatility of style and her comfort in doing so. To add to the lounge feel, the midpoint horn solo is noteworthy and appropriate.
No fledgling to music, this is simply Olga playing to her strengths. Her vocal delivery can go from demure to astonishing at the drop of a hat. And while singing the blues may be her forte, this album is proof that it is often faulty to pigeonhole within the bounds of music. The pop sensibility of the album suits her well, but then again I have serious reservations as to whether there is anything that Olga can't sing. Maybe opera, but I'm not counting anything out yet… fourth album or not; this gal is just getting started.  
by Chris West
[Rating: 3.5/5]