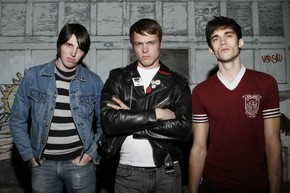 The first MP3 from the Bad Sports new LP on Dirtnap Records (Exploding Hearts, Mind Spiders, Marked Men, White Wires, etc).   Their first album for the label is called "Kings of the Weekend" and it comes out on 8/16.  
"Teenage Girls" MP3: http://www.dirtnaprecs.com/Teenage_Girls.mp3
Their debut LP came out on Douchemaster Records and turned many a Garage Punk fan onto the band. "Kings of the Weekend" was recorded by Mark Ryan of Marked Men/Mind Spiders (members of BS are also in the live incarnation of Mind Spiders).   Bad Sports are know for an energetic live show, and you can expect touring in August and onward.