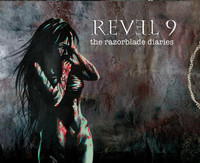 Formerly known as Gee Davey, Revel 9 is locked, loaded and ready to give you 'The Razorblade Diaries'.   This is the band's debut EP under the name Revel 9 and they are excited to get these songs out to the masses.   The group hails from Long Island, NY and is made up of: founder, guitarist & lead singer/songwriter DJ Pearlman, Michael Bontempi on drums, Ray Kuhner on bass and their newest member Matthew Dower on rhythm guitar.   Revel 9 is ready to make some serious noise!
I couldn't help but think of Bush's 'Razorblade Suitcase' album when I saw the EP title.   I own this record and highly enjoy it, so if Pearlman & company could live up to the quality of 'Razorblade Suitcase' I would be very satisfied.   'The Razorblade Diaries' nothing like Bush and their 1996 release but Revel 9 rocks out respectfully in its own right with six well-recorded tracks.   The professional touch was there and the substance was evident so let's go!
The gist of this recording revolves around the concept of boy meets girl, boy loses girl and boy does anything to win the girl back.   This whole story & creative process was portrayed extremely well by the Revel 9 boys.   As soon as you hit Play you bear witness to quick 'n' punchy rock on "San Jose".   This hard-nosed rock sensation carries on throughout the entire 6-song set.   On the track "Another Mistake", I'm hearing an edgy & raw sound complete with a kick-ass garage band effect.   These guys are just jammin' away and havin' a good time so let's join the Revel 9 party!   The hard rock influence is heard loud & clear on this disc with guitar riffs that rock your world!   The vocals are catchy and fit in perfectly with the band's whole approach.  
Overall, I am very impressed with how each member made it all work as Revel 9 is in the building!   They offer up an appealing sound that is bound to catch on like crazy!   You owe it to yourself to check out Long Island's own Revel 9 and their debut release 'The Razorblade Diaries'.   The diary has just begun and so I can't wait to see what they add to it next!
By Jimmy Rae (jrae@skopemag.com)
[Rating: 4.5/5]