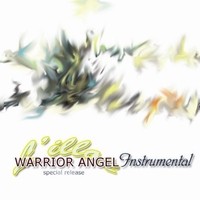 The "Lucid Pop" queen is back with a very Special Release of 'Warrior Angel Instrumental'.   I had the pleasure of reviewing L'illon's debut album 'Warrior Angel' back in December of '09 for Skope (http://skopemag.com/2009/12/08/l%E2%80%99illon-warrior-angel ).   I was hooked then and I am hooked now even more so after hearing this new record.  
This Angel Warrior who is always innovative in her approach continues to set the bar high.   She put   Vibilicious Pop on the map and now she attempts to tackle the instrumental world.   What L'illon has done here is tell a complete story without any words.   Mission accomplished, as I found myself completely immersed in her music.   This singer/songwriter from Washington, D.C. has literally rejuvenated ten tracks by adding a whole new dimension to the 'Warrior Angel' mystique.  
[youtube umGbY5rwuNs nolink]
L'illon arranged the album while also composing the entire 10-song set.   L'illon knows exactly what she wants and how she wants it done so get ready for one unforgettable journey.   The CD starts up with a great intro that is very upbeat, energetic and flavorful to say the least.   Right away you hear the difference on this 'Instrumental' album with the electric guitar standing out.   This noticeable factor continues on as I was really feelin' the guitar BIG time on tracks 1, 2 and 5.   On song three, "I Wonder", you actually get an electric/acoustic mix that serves as one enjoyable listening experience.   This number has a warm & cool breeze feel where you will envision yourself relaxing in the golden sands and bright blue waters.   I have to say that I simply loved the Latin splash combined with a dash of elegance on "Tu Solo Tu (Only You)".   You'll hear the exquisite sound of the cello here and even some funky bass lines for added effect.   Go on with your bad self L'illon!   On track five, "Thief of the Night", the mood is set as you receive a mysteriously soothing vibe that will captivate you.   Not to mention this song has one killer dance beat that would be welcomed in any club!   "Navigate Me Home" displays an acoustic guitar that is in the zone, taking charge and leading the march on this easy listening jam.   You'll be snapping your fingers to the emphatic rhythm of "Untouchable" while the piano is distinctly carrying the tune into uncharted territory.   L'illon goes out in style with her title track where you actually sense that the song is in fact about a powerful 'Warrior Angel'.   This closing number has sort of an epic ending to it like what you would see in a Hollywood movie.   The "Lucid Pop" diva might be onto something here so get ready to roll out the red carpet because here comes L'illon!
We already know that this multi-talented artist battled music and has won convincingly, so who's to say she won't get involved with movies, television and video games as well. This Special Release has so many wonderful moments & elements popping out at me that it's hard to narrow them all down.   'Warrior Angel Instrumental' spells instant success for L'illon and I'm just glad I'm a fan and not a foe.   Sky's the limit for this rising star who continues to take it to a higher level each time out.   Endless potential and opportunities await this young music artist and I am just so excited for the future of L'illon.   I can't   wait to see what she does next!   This album is only available on www.lillon.com and Nimbit Music (http://www.nimbitmusic.com/lillon.1).   Go get your copy today because the L'illon Revolution is about to begin!  
By Jimmy Rae (jrae@skopemag.com)
         
[Rating: 5/5]