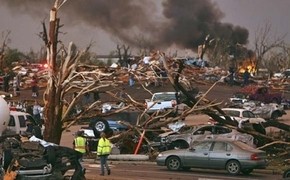 Christofer Drew and his band Never Shout Never call Joplin, Missouri home. The 20-year-old singer/songwriter grew up and currently resides in Joplin. While Drew and his family were not harmed by the devastating tornados last week, many of his friends and band members were greatly affected.
"Joplin is my home. It is the place where I find comfort and rest. The tornado that hit our community was not only devastating to the city's prosperity, but also the lives of the victims. My greatest hope is that after the cameras leave, we will not be forgotten.   I love this city and plan to stand by its side until it is completely restored and livable.   We are all encouraged by the help we've received.   Thank you everyone." – Christofer Drew/Never Shout Never
To help raise money for his hometown, Christofer has put together a campaign with the United Way and hopes to raise 1 Million dollars for Joplin:
Text "JOMO" to 50555 to donate $10 to the immediate and long-term relief of Joplin, MO.
[youtube nTMEo7-uVr0 nolink]
Next week, Never Shout Never will have a new track available for sale with all proceeds going towards Joplin relief.