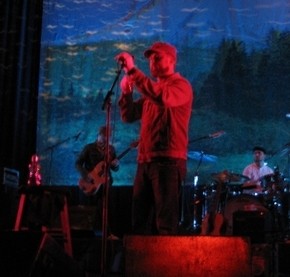 The first leg of their second tour supporting their new release Showroom Of Compassion is being sold out.   The Cake lineup was John McCrea on lead vocals, rhythm guitar, and vibraslap, Vince DiFiore on trumpet, keyboard, harmony vocals, and percussion, Xan McCurdy on lead guitar, and backing vocals, Gabe Nelson on bass guitar and backing vocals, and Paulo Baldi on drums and backing vocals.  
John opened the festivities with "We're Cake, and we're here to serve you".   We have no opening act, so we are opening for ourselves".   The band went on to deliver material from their six previous albums and the new release, including Frank Sinatra, Federal Funding, Jolene, Sheep Go To Heaven, Sick Of You, and Long Time.   The encores were Short Skirt, Long Jacket and The Distance.  
The band is hard to describe, like describing an alchemy formula or the zillions of chemicals in cigarettes.   They have a hint of Lou Reed, a touch of reggae, a pinch of Ventures/Duane Eddy guitar styles, a little Tom Waits, and a lot of Irish drinking song similarity.   John's acoustic guitar miked through a tiny amp, and Xan's Gretsch semi-hollow bodies blend into some neat ukulele vs. rumble guitar tones.  
In a strange fashion, they took an intermission during an hour and a half or so show.   After the show there was some moaning and groaning about not hearing the infamous covers of War Pigs and I Will Survive.   Nobody seemed concerned about not hearing Bread's The Guitar Man.
The band has a loyal following, sort of like a Dead or Phish thing.   Instead of crowd surfing and moshing, you have some wobbling and head bobbing.   If you're a "Cakie", check the tour schedule and call the ticket lord's and order some dessert!  
By: RME