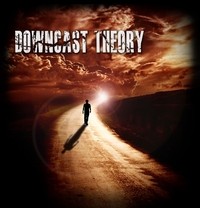 I was lucky enough to get a chance to review this band's last album titled 'Damaged Calm' back in 2009 for Skope Entertainment Inc. (http://skopemag.com/2009/10/28/downcast-theory-damaged-calm ).   I loved what I heard then and I really love what I hear now from their self-titled release.   I am so excited for Downcast Theory and their bright future ahead!
This band hails from the Garden State and is made up of: Matt Simon on vocals & guitar, Jake Raynor on guitar & vocals, Matt Raunick on drums and Ryan Sauerman on bass.   This is the first time working with bassist Ryan Sauerman as Downcast Theory looks to dominate the pack.   This new record displays many of the same qualities from the last album but these Jersey rockers have decided to kick it up a notch.   That insane amount of energy & force that was so visible on 'Damaged Calm' remains the same for the new album.   Right out of the gates on the first track "Forgotten Within" all the way to the end with "Rebirth", DT continues to land powerful jabs of sound that are sure to deliver a knockout.   This band is simply on fire here as they play with an enormous amount of fury & ferocity that is hard to contain.   The band chemistry is rock solid because Dowcast Theory makes it work on all angles flawlessly.  
DT gives you hard rock & heavy metal at its finest where it all seems to hit you head on.   This record seems a bit heavier with edgier riffs and screams from Jake Raynor that really grab you like on "Insane", "Prayer" and "Invictus" among others.   When  Jake starts up song nine "Change of Pace" with the phrase "Get the fuck up!", I say hell yeah baby!   These Jersey boys are bringin' it with authority and they are really letting you have it.
Downcast Theory "Call To Rise" MP3:
Matt Simon's vocal delivery was very impressive to say the least as he was able to battle with so many emotions at once.   On one breath you get anger & agressiveness coming from Simon's voice and on the next breath you pick up on real pain & hurt.   Vocally & lyrically there was so much damn feeling behind every single word Matt sang.   It was quite an experience to hear and I am proud to announce that I am a hardcore Downcast Theory fan!   As their logo states: "The Downward Spiral Has Begun" and I am so glad to be a part of it!
DT has opened up for some pretty big acts such as: Powerman 5000, Cold, Drowning Pool, Taking Back Sunday, Circa Survive and Nonpoint.   Dowcast Theory has played at many hot spots around NJ such as: Starland Ballroom, The Stone Pony, The Saint, Maxwell's, School of Rock, Bar Anticipation and The Fixx.   They have also performed at: The Delancey in NYC, Adelphi University in Garden City, NY and Bootleggers in Woodlyn, PA.   Recent performaces include: Brighton Bar in Long Branch, NJ and Knitting Factory in Brooklyn, NY.   If you happen to be in the Butler, NJ area on Sunday August 14 then head over to Architekt Music to watch this electrifying group rip through their set.   Predominantly a Tri-State area band at the moment, DT looks to branch out and start hittin' more states very soon.   I, for one, can not wait to see Dowcast Theory live now so hopefully a BIG tour is in the works!   Let "The Downward Spiral" begin!
You're probably wondering to yourself where can I buy their music and I'm so glad you asked!     You can purchase the new album and/or 'Damaged Calm' at iTunes at: http://itunes.apple.com/us/artist/downcast-theory/id268914755 .   If you prefer the CD version like myself then you can contact Matt Simon at: downcasttheory@yahoo.com and he'll get you all fixed up.   Downcast Theory is also selling some very cool T-shirts so hit up Matt if you're interested in that as well.   I'll leave you with some helpful sites where you can find out even more about this tight-knit Jersey bunch: http://www.downcasttheory.com/fr_dt.cfm
http://www.facebook.com/DowncastTheory
http://twitter.com/#!/downcasttheory
By Jimmy Rae (jrae@skopemag.com)
[Rating: 5/5]