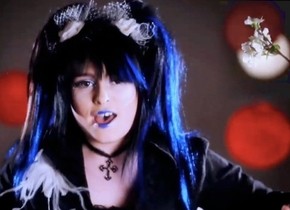 At a mere 15 years old, Hazel Jade Rogers is stirring up some serious interest in the music world.     Besides her mezzo soprano range voice she plays drums and guitar.   She already has composed some of her own music and co wrote some  with others.
Hazel was born in Dublin and was performing at age three at the National Performing Arts School and later attended the Independent Theatre Workshop in Ranelagh.   She has appeared in a number of professional productions over the years, including Annie, as an orphan, Oliver, as a gang member, and was part of the cast for Carmen at the  National  Concert Hall in Dublin.  At age eleven she spent a year at Redroofs Stage School in London, where noted actresses such as Kate Winslet spent their early years.   Hazel loved London, the buzz and the people.   Whilst she was there she was taken under  the wing of Mike Hurst who produced and coached many artists such as Cat Stevens and Marc Bolan.   Mike believes that Hazel could  become a major music artist in her teen years.. She has returned to Ireland to start her senior year in school.
 
She has been working with two producers in the US, Chris Jenkins of BullRing Entertainment, and Gary Earl based in Nashville, who is a Grammy nominated Producer.   Hazel has recently secured a number of deals with Disney and some major brand companies.   She has recorded two new songs that she wrote after releasing her first three songs on ITunes in Aug 2010, where she charted at number two with  "Back It Up" in the National Irish Charts on Reverberation.   Her  professional video for "Back It Up" was released  in early March 2011 on You Tube  where it received over 13 hits in the first three weeks.   She has been performing live on local radio and recently was showcased on Music Review Unsigned TV on April 22nd, 2011:
 
http://www.musicreviewunsigned.com/mrutv.html
 
Who were your early musical influences and, what got you started?
 
Well, most definitely the writer and composer Pink – She writes about what she believes in, and from situations that have caused problems in her life. I always felt listening to her lyrics helped me through difficulties in my life too. She is a true composer and I want to grow to be as good as her. I've always been musical because of my family.  
My Mother was always a keen songwriter and has written a LOT of songs :) My father was musically trained. Both play instruments and have a wide appreciation of all genres. So basically since I was born, I have always been surrounded by music!
[youtube XqYSa-3mVq4 nolink]
How do you classify your music, what makes you unique?
 
I feel my music means something, what I write about (generally) happens to most teens. We go through ups and downs about our relationships with boyfriends/girlfriends and we always want to change our physical appearance in some way. I've had may young people come to me saying that my songs helped them through tough break ups – even a few saying it stopped them from being depressed. Really, that's something I want my songs to do, to perhaps help people in their lives.  
Ideally,  what would you like to be doing 5 years from now?
 
I want to be performing at venues, touring and signed by a well known record company
Tell me about your Cd's/songs and any projects you have in the works?
 
I'm currently recording two new songs – one has just gone over the the US for production. I think they're my best songs to date, though I love my old songs too. :)
Tell me all about the April 22nd Music Review Unsigned TV?
 
Loved doing this – it's a bit nerve wracking, few notes not quite right! Even though I've performed in front of hundreds of people, I find I sometimes get a bit scared in front of 2 or 3 lol! ..    From this I'm going to be doing a few live gigs locally, I can't wait to do this.
 
www.facebook.com/hazeljaderogers
www.youtube.com/hazeljaderogers
www.twitter.com/hazeljaderogers
www.reverbnation.com/hazeljaderogers
 
By: Diana Olson – diolson05@yahoo.com