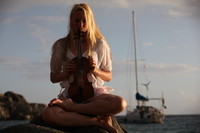 All I have to say first is WOW!!!   This Jane Hunt will invigorate your senses and will leave you with a feeling of mass content.   There is a reason why she is referred to as the self-proclaimed "Violin Venus" and that is because she makes breathtaking music with her instrument.
This four-song EP was so refreshing to hear because it was something so out of the ordinary for me.   The violin isn't considered a popular choice of today when it comes to making a song or shooting a video but Jane Hunt is here to change all of that!   By combining elements of rock, acoustic guitar and folk Hunt makes it all work flawlessly.
Jane's resume is quite impressive as she has appeared at many high-profile locations such as: Carnegie Hall, Radio City Music Hall, New York's Fashion Week, the U.S. Open, Arthur Ashe Stadium, The Kennedy Center, Cannes Film Festival and Sir Elton John's Lifeball!   With this distinguished list I know that we're dealing with a refined artist who's no stranger to the performing arts.   Not to mention, Hunt even started her own show back in 2007 called "The Violin Venus Show" that proved to audiences everywhere that classical music could jive with pop, folk and jazz.   Innovative to say the least as Jane Hunt brings you four installments that will not disappoint.
The EP opens with "Vasene" that is a very hypnotic piece complete with tempting & dreamy vocals.   Next up you have "Melia Dream" that incorporates an orchestral effect where you get a sense something monumental is about to happen all thanks to Jane's incredible vision & direction.   This number has that feel where it could easily be included on a movie's soundtrack due to the cinematic quality & atmosphere depicted in the song.   The "Violin Venus" ends on a high note with "Sahara" which happens to be my favorite piece hands down!   This finale offers the listener worldly, transcontinental vibes along with somber & touching moments that you can truly feel.   It doesn't stop there though because Jane decides to throw in percussive beats that really liven things up a bit and even rock guitar backdrops!   And once again, this track could be part of a movie's trailer as this violinist/composer really brings it all to life!   This closing number had so much going on where your senses were literally on the edge of their seats!  
This Jane Hunt has created something very special here as she takes you on a trip through different lands and cultures.   This British born woman is very diverse when it comes to her musical tastes & styles as it shows on this self-titled EP.   Jane's many travels throughout the world has helped shape her into an elegantly majestic violin player & composer.   I'd also like to add that digital technology played a key role toward the success of this project.   Overall, I have to say that I'm blown away by Jane Hunt's talents & skills as she just played her heart out and made beautiful songs.   Incredible outing for Jane Hunt to say the least and I can't wait to hear the next full-length release now!
By Jimmy Rae (jrae@skopemag.com)
[Rating: 4.5/5]